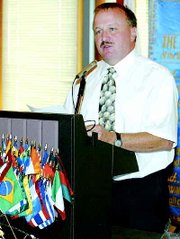 Sunnyside School Superintendent Dr. Rick Cole was the featured guest speaker at the Sunnyside Noon Rotary Club Monday meeting and he informed the Rotarians about the current state of the school district.
The school district hired 65 new staff members this summer, he said. New faces on the administrative side of the district will be Julie Perez, as the new assistant principal at Harrison Middle School, and Kimberly Frank, who will be taking over duties as assistant principal at Pioneer Elementary School.
Adding to his duties as Sunnyside High School leadership advisor, Dave Martinez will also take over the position of director of intervention, formerly held by Gary Babcock.
Martinez will oversee two modules at the Sunnyside Law & Justice Center for troubled students. Cole said the hope is to eventually get these students back into the regular high school.
There will also be two modules for students needing academic help on the high school campus.
"The work has been fast and furious at the high school to put these portables in," Cole told the Rotarians.
Three new programs will join the existing cosmetology program at the skills center. Right now this is just some modules on East Edison Avenue but eventually a building will be built at the site, donated by the Port of Sunnyside. This program is a satellite of the Yakima Skill Center. The three new programs will be law enforcement, nursing and applied math, a program for students who are having problems passing the math portion of the WASL.
Cole told the Rotarians that three years ago the school district was only passing 40 percent of its students in the reading and writing portion of the WASL. He said that figure is up past 70 percent now.
"We have not done well in math, though," he said. "Because of that we have adopted a new curriculum this year. Our teachers have gone through extensive training (12 days) over the summer on the new curriculum. We're not backing off reading and writing but our focus this year is on math."
Cole also spoke briefly about the new school to be built in Sunnyside, Sun Valley Elementary School. He said the school district will be awarding bids tonight (Tuesday). Cole said three major construction companies have bid on the $8.5 million project and the school district is hoping the building will be ready by the start of the 2008-09 school year.
"More realistically it will be ready by Christmas break of that school year," he said.
He added that the school district's top priorities are to build the new elementary school, modernize Washington Elementary School and then modernize the high school.
Cole also told the Rotarians school uniforms are still being studied and he is in the process of reviewing comments from parents and residents in the community. Cole plans on presenting his report to the school board during the regular meeting at the end of September.