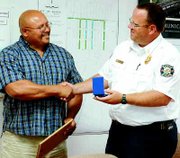 MABTON - An alert truck driver is credited with saving five lives during a Mabton house fire that occurred in late June. For this heroic act, Dave Salinas was recognized with a commendation of valor from the city at the regularly scheduled Mabton City Council meeting last night (Tuesday).
Salinas was driving through Mabton as part of his Milky Way route in the early hours of June 30 when he noticed a little trail of smoke in the distance. He stopped, grabbed a cup of coffee at the mini-mart and when he came out, noticed the smoke he was seeing was getting thicker.
Curious, he drove toward the source. At that point, he saw yellow flames. Edging closer, he saw the flames begin to creep up higher at the home located at 414 South Street.
Salinas was quick to act. "I just took a sideways fist and started pounding the door, yelling in English and Spanish that the house was on fire," he said.
By the time the door was answered, he said, "Flames were up on the house."
Jayne Chavez and her family, including her husband Adrian Chavez, her son Randy Scholl, his girlfriend, Maria Miller and their son Jorge Guizar, all evacuated the building.
Said Scholl, "As soon as we all got out, the roof caved in and there was no going back."
Mabton Fire Chief Luke Cussins said, "If he had not woke them up, I am positive we would have had multiple fatalities at this fire."
Jayne Chavez said, "I feel extremely lucky to have all five of us be alive. Even though we lost everything, we still have our lives."