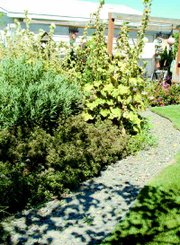 Tucked away, sheltered by a cornfield, Clarence and Pam Meeker have staked out their own back yard paradise.
The family lives just outside of Sunnyside on Arrowsmith Road, and have turned a former pasture into a veritable Eden.
A welcoming arched garden terrace welcomes visitors to the front yard, and the back yard features variety ranging from a fish pond to a flower laden patio.
Pam says they try to not only have flowers in bloom, but plants that weather well during the winter, like evergreens, which also provide year-round color.
The Meekers' daughter, Meredith, has her own children's garden that provides an area offering pause for reflection.
"When I look back from my daughter's garden it just gives me a lot of peace," says Pam. "It's very beautiful."
Besides featuring an abundance of flora and fauna-a family of quail and wild rabbits also call the property home-the Meekers have incorporated Pam's interest in the ocean into their decorations.
"I love the ocean," she says, noting that her daughter's name means protector of the sea.
The nautical theme is visible both outside, with sea gulls and other water-themed decorations, and inside. Meredith's room, in fact, has one entire wall dedicated to the water.
To top it all off, the Meekers have their own "sea" of sorts in the back yard paradise in the form of a family swimming pool.
All of which goes to show that even an everyday, run-of-the-mill pasture can offer at least a slice of heaven on earth.
More like this story