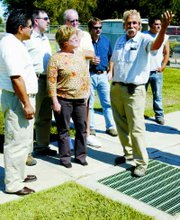 The city of Sunnyside pulled out all the stops to help commemorate the newly reconstructed wastewater treatment plant yesterday with an open house, a meet and greet lunch, and a ribbon cutting ceremony.
"This was a good cooperative effort with the EPA and the Department of Ecology," Sunnyside City Manager Bob Stockwell said. "They set the standards but they also assisted with the solution."
The solution provided to the city by Ecology was $18.5 million in loans and grants.
Construction started on the outdated plant 18 months ago and Stellar J Construction Company turned the plant back over to the city May 15, ahead of schedule.
The plant needed an upgrade because it no longer was capable of treating wastewater to EPA and state regulations, Stockwell said.
Sunnyside Public Works Director Jim Bridges said there were two goals to the upgrade, improving the efficiency of cleaning the water and improving the efficiency of the operations at the plant.
"This plant is for the future of this community," Sunnyside Mayor Ed Prilucik said. "It will last for a considerably long time and will promote a good, clean environment."
Plant Manager Joe Ortega said there were three reasons why the plant was outdated. One was that ammonia limits set by Ecology couldn't be met. Another was the chlorine residual set by Ecology couldn't be met without using an even more hazardous chemical to treat the water. Chlorine was previously used to treat the wastewater coming into the plant. The old limit was .5 mg of chlorine per liter of water but that level was changed to .05 mg per liter.
Ecology also set a standard that dissolved oxygen leaving the plant must be at least four mg per liter for aquatic life to survive. Again, the outdated plant couldn't meet this criteria.
These new regulations were set by the Clean Water Act.
Ortega said construction crews put in a bigger aeration basin to help strip ammonia with anoxic zones.
Post aeration was also added to the water to increase the dissolved oxygen levels before it was released into a ditch known as DID3. Now there is eight mg of dissolved oxygen per liter in the water leaving the plant, double what was set by Ecology.
Instead of using chlorine to treat the water, a UV light disinfection process was installed. Before the water is released into the drainage ditch and makes its way to the Yakima River, the water is flashed with UV light which changes the DNA in any organism in the water so they can't multiply.
"It sterilizes them," Ortega said.
The water leaving the plant is now cleaner than the water in the Yakima River, according to Ortega.
Also included in the upgrade was a new operations building with a state of the art lab to test the water.
"What we ended up with is a really nice plant," Ortega added.