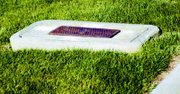 The mercury may have been hugging triple digits for much of the summer, but the city of Sunnyside has had winter on its mind.
Since this past spring, city crews have made the rounds in weatherizing water meters.
City Manager Bob Stockwell said the project is nearly complete. It involves opening the water meter box and placing a bag of foam pellets inside to act as insulation and prevent water lines from freezing when temperatures drop during the winter time.
The insulation doesn't get in the way of reading water meters, Stockwell added, because the city measures water consumption via a remote electronic reader. Meters are read by using an antenna which can actually measure usage by just having a city vehicle drive by a residence.
Letters go out to residences in advance of the meter insulation and Stockwell said residents are asked to keep their meter free of obstruction.