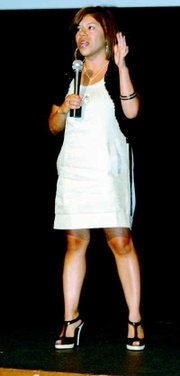 Maria Reyes was a third generation gang member on the tough streets of East Long Beach in California. By age 11 she had seen her cousin shot in the back five times by the LAPD.
"No one cared," she told an auditorium crowded with Sunnyside High School students yesterday. "He was just another Mexican that got shot down."
She said no action was taken against the officers involved and she learned that justice didn't mean anything if you have the wrong color of skin. In other words, if you weren't white.
Her father had been in and out of prison her whole life and was finally taken away for a long time. Her mother worked three jobs and still could barely provide enough food for her family to eat.
"I had no hope," she explained. "It didn't matter if I got an A or an F in school. My parents never worried one way or the other. They were too busy. I realized I had no reason to work hard."
For Reyes and countless other students at Woodrow Wilson High School in Long Beach, that changed over time after they met Erin Gruwell, the inspiration for the movie Freedom Writers.
Reyes told the students she and other students tried to burst Gruwell's bubble when she first walked into the classroom.
"She didn't belong with us," she said. "I was convinced the only education I needed was on the streets."
Reyes thought she would end up poor and with lots of children, but one day something happened that gave her a whisper of hope.
Gruwell made the students stand in a circle and began to speak with them.
"She told us no matter what we did before didn't matter," Reyes said. "She told us this was our second chance."
It was at that moment, Reyes said, that she begin to think maybe she could change her life.
She was given the book The Diary of Anne Frank to read but didn't see the point.
"She wasn't a Latina, she wasn't from my hood or from my gang," Reyes said of Anne Frank. "What could I possibly learn from her."
She read the book anyway, getting madder and madder at Gruwell as she turned each page. Then something happened. She read a quote from Frank that Reyes identified with. After that, she said, every time Anne was angry, she was angry, when Anne fell in love with Peter, she fell in love with Peter.
Reyes said she never cried when her cousin was killed, she never cried when her father went away to prison, but at the end of the story when Frank dies, Reyes said she cried like she's never cried before.
Things were beginning to make sense for the young Reyes but she was 'mad as hell' at Gruwell for making her read the book, knowing Anne Frank would die.
When Gruwell started making her students write a diary, for the first three months Reyes only wrote, "I hate Erin Gruwell."
Eventually she tired of that and started writing about her cousin's death.
"I finally started writing about my feelings," she said.
It was then she said she realized she could dream. "The light of dreams got turned on in my life."
Eventually Reyes graduated from high school. She went on to earn a Bachelor's degree from California State, Long Beach. She plans on getting her Master's degree soon and wants to become a teacher.
The students' diaries were published in a book which eventually was made into a movie in 2007.
"Erin did not change my life," she told the Sunnyside students, "I did. But she gave me the belief."
Her message wasn't lost on the students. Suunyside High School senior Ivan Mercado, from California, said her speech made him think twice.
"It's good to see someone like me change their lives," he said. "I've barely changed mine."
Teodoro Bojorquez Ruiz was also affected by her speech. He said he liked that Reyes talked about her life and could see the correlation to his.
"I will try harder," he said. "The message sank in."
Several more students went up to Reyes after her speech, tears in their eyes, to thank her for coming. Several had that look that only one who has lived it, could know.
"When we don't have home, we have to find it, when we don't have strength, we have to find it and when we don't have courage, we have to find it," she told the students.