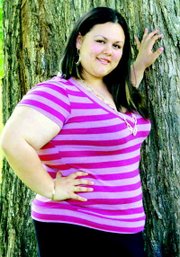 Jesenia Rodriguez was born ready to take center stage and will do so come Sept. 15 during the Miss Sunnyside Pageant.
The Sunnyside High School student wants to attend Washington State University to study theater once she graduates.
"I really like drama. I've been in three plays and hopefully I can get a job in acting."
She said she loves acting because "you can be so many different people. You just get to be whoever you want on stage and people don't really judge you for that."
It all began in the fourth grade, when her teacher knew of someone that needed kids to participate in the play "The Castaways."
Said Rodriguez, "I've loved it ever since. I love the feeling when I'm up there on stage."
Rodriguez has a strong family background of pageantry. She said she's had a couple of aunts compete for the Miss Sunnyside title and a couple that ran for Miss Cinco de Mayo. Even her mother's had pageant experience.
"They told me a lot about their experiences and it sounded really fun, so I wanted to try it," said Rodriguez, adding that it's something she's wanted since she was a little girl.
If she's selected as Miss Sunnyside, Rodriguez, who is already enthusiastic and outgoing, wants to meet new people and help those in need. And, she added, "Represent the community, especially that!"
It's the opportunity to serve the community that has piqued her interest. "I've always wanted a challenge to see what I could really do, to see how much I could actually do for this community," she said.
If she's selected Miss Sunnyside, Rodriguez wants her court to partner with Learning Land Express Daycare and Preschool as its community service project.
"Mainly what we're going to do is fun and educational activities with the children, like puppet shows and reading stories. I love working with children."
Rodriguez herself is a self-described "bookworm."
For the talent portion of the pageant, Rodriguez will perform a dance routine to the Spice Girls song "Spice Up Your Life."
Said Rodriguez, "I really like dancing. That's one of my hobbies. And 'Spice World' is actually one of my favorite movies. It's really upbeat and I think a lot of people will like (the dance)."
Rodriguez, the daughter of Bernald and Rafaela Rodriguez, said the best thing about living in Sunnyside is "the agriculture around us and the beauty mother nature has given us."
She added, "There's a lot of really nice people here. And when it wants to be, it's a really quiet town."
Her sponsors include All State Insurance, Sartain Trucking, St. Joseph's Catholic Church and Aho Construction.