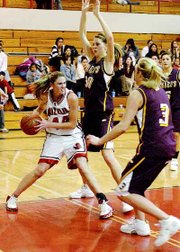 A rally by the Sunnyside Lady Grizzlies came up short against the Moses Lake Chiefs last Friday as Sunnyside fell 80-48.
"They're a great team," first year SHS Coach Eric Berg said of Moses Lake. "They're loaded with a lot of talent."
Six foot, five inch Carly Noyes led Moses Lake in the first quarter, scoring eight points on her way to a 27-point performance.
"Their transition is pretty good," Berg said. "Noyes was the league MVP last year as a sophomore."
He said Sunnyside is still working on things and trying to get down their sets, while Moses Lake seems to be in mid-season form.
Still, Berg said he liked the energy Sunnyside displayed Friday night, noting everything was positive except for the score.
Moses Lake is a very tall team with excellent outside shooters. The Lady Chiefs nailed a dozen 3-points shots during the game and Berg said his team will have to do a better job of contesting those types of open shots.
Moses Lake jumped ahead 20-10 in the first quarter and used four 3-points baskets in the second quarter to build their lead to 40-17 at halftime.
"When they weren't working the outside on us they were working the inside," Berg added.
An injury to Sunnyside's Katie Wutzke in the first half left Sunnyside with only seven players. Because of this, the Lady Grizzlies started to tire.
"The effort was still there," Berg said. "They were working hard."
In the third quarter Sunnyside outscored the Chiefs 21-19 and pulled to within 15 points at one point.
"Kayla (Rollinger) hit a couple of shots for us and that kind of sparked us," Berg explained.
She had 10 points in that quarter.
Even though Sunnyside was scoring points, the Lady Grizzlies had a tough time stopping Moses Lake's outside shooting. The Chiefs drained another four 3-points shots in the third.
In the fourth quarter Moses Lake pulled away from Sunnyside for good, outscoring the Grizzlies 21-10 in the final period.
Rollinger led the Grizzlies with 22 points and 11 rebounds.
"She had an outstanding game for us," Berg said.
Alexis Ramos added nine points for Sunnyside. Yvette Garza had five points and Kelsey Rollinger finished with four points.
Sunnyside was 7-of-15 from the free-throw line and Moses Lake was 4-of-5.
"We did a good job of not fouling," Berg added. "We played smart basketball."
Sunnyside out rebounded Moses Lake 34 to 18, mainly due to the fact the Chiefs didn't miss many of their shots. The Grizzlies turned the ball over 15 times.
Sunnyside (0-1) will travel to Walla Walla this Tuesday, Dec. 4, for a 7:30 p.m. game.
.