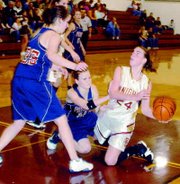 The Sunnyside Christian Lady Knights won their season opener this past Friday night against Liberty Christian, 57-36.
The Lady Knights had the lead from the get-go, scoring 17 points in the first quarter and holding Liberty Christian to five.
"I was surprised, we got a big lead on them 9-0 and we just kept going from there," said Coach Al Smeenk.
Smeenk said Liberty Christian had three players six-feet tall, but Sunnyside Christian out-rebounded them 38 to 22.
In the first half of the game, Sunnyside Christian forced 13 turnovers.
By the end of the game, the Knights dropped off, scoring only five points in the fourth quarter.
"We have to work more on finishing the game," said Smeenk. "We didn't work as hard."
Lady Knight Andrea Schutt finished the night with 14 rebounds and 10 points for Sunnyside Christian. But it was teammate Emma Newhouse who was the highest scorer, racking up 16 points. Melanie VanWingerden scored 14 points.
Sunnyside Christian's Julie Long made her varsity debut and notched seven points in the first half. Rene Dalrymple scored five points, Abby Bangs four and Jaime Sveen garnered a free-throw at the end of the game.
The Lady Knights shot 15-of-19 from the free-throw line.
"For their first game, I thought they played well," said Smeenk of his Lady Knights. "I was pleased with their intensity and desire, (and their) great attitude."
Sunnyside Christian next plays against Wellpinit this coming Saturday.