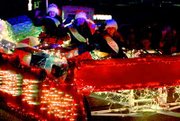 Minnie Mae Shadwick, loving wife, mother and grandmother, went peacefully to be with the Lord, Friday, Nov. 30, 2007. Her family and loved ones were at her bedside the last few days.
She was born Nov. 15, 1916 in Larned, Kan. to Earl and Daisy Gordon. Her adolescent years were spent growing up with eight siblings in Kansas, where she met and married her husband, James C. Shadwick in 1935. In 1941, with their family of three children, they moved to Sunnyside to start a new life. In 1945, they bought their farm in Prosser, where they lived for 59 years until the passing of her husband of 68 years.
She was a very loving mother.
Minnie took great pleasure in having grandchildren come stay with her and having her family together for big dinners. She loved to cook big meals for the harvest hands during mint and hay harvest on the farm.
Minnie and Jim enjoyed traveling around the USA in their motor home. They traveled to all 50 states, the District of Columbia, Mexico and Canada.
Mom loved music and was singing or humming her whole life, she would call her kids every birthday and sing Happy Birthday to them. She had a beautiful voice and came from a very musical family. Mom loved to fish until Dad ran over her with the boat, then that put an end to the fishing. They loved and laughed for many years after that. Their love and laughter will be missed greatly by their entire family and many friends and neighbors.
She is survived by her five daughters, Sylvia and Wayne Bryson of Port Hadlock, Barbara Breeze of Mabton, Bev and Ken Kite of Prosser, Karen and Doug Hilmoe of Prosser, and Elaine and Manuel Messick of Hoquiam; nine grandchildren, 16 great-grandchildren and eight great-great-grandchildren; and three sisters, Lena Bell Grindle of Vancouver, Pearl (Doyle) Gunter of Richland and Madge Hunt of Woodburn, Ore.; two sisters-in-law, Frances Gordon of Benton City and Ruth Gordon of Zillah; and many nieces and nephews.
Funeral services will be held Saturday, Dec. 8, 2007, at 11 a.m. at Smith Funeral Home in Grandview. She will be laid to rest next to her husband, Jim, at the East Prosser Cemetery.
Smith Funeral Home and Crematory is in charge of arrangements.
More like this story