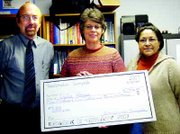 Imagine leaving a long-time abusive environment with merely the clothes on your back.
Where would you turn?
Many people faced with this scenario turn to Lower Valley Crisis and Support Services for help, and a recent donation from Transformation Sunnyside will allow the organization to further its services.
Because the organization is designed to help families in crisis, Transformation Sunnyside members felt a $1,000 boost to the center's funds would be a worthwhile cause.
"Transformation Sunnyside is about promoting change through the power of prayer and relationships," said Transformation Sunnyside representative Elizabeth Gates. "Lower Valley Crisis and Support Services fits with that objective because of the changes they promote within the community."
Lower Valley Crisis and Support Services Interim Executive Director Ryon Hood said the funds have already helped a woman who had been in a similar situation as described earlier.
He said the organization was able to utilize a part of Transformation Sunnyside's donation in providing an apartment and some of the basic essentials, such as a bed, for the woman.
Transformation Sunnyside received donations at a recently held community service and the members of the group wanted to donate the money to another organization.
"Lower Valley Crisis and Support Services promotes peace within families," said Gates, stating she felt that was where real change within a community begins.
Lower Valley Crisis and Support Services Advocate Estella Patterson said she felt the donation was one more way in which members of faith were helping support the organization. "We already have a partnership with Cornerstone Assemblies of God Church...God has really been helping us help others," she commented.
"We're not here to start new programs," interjected Transformation Sunnyside member Ed Werkhoven. "We want to help established programs."
Hood said the donation was highly appreciated by Lower Valley Crisis and Support Services because funding is often very limited. He said there never seems to be enough funding to meet the needs of the community and receiving the $1,000 was much like Christmas to the center.
Patterson added, "Thank God for Transformation Sunnyside."