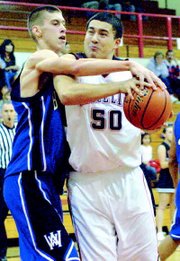 A rough start last night against the Walla Walla Blue Devils made it difficult for the Sunnyside High School boys basketball team to dig themselves out of a hole. The Grizzlies' attempt fell short as Sunnyside lost its third straight game of the season, 68-41 to the visiting Blue Devils.
"We played well at times but Walla Walla got us," Sunnyside Coach Ron Rowe said.
He added his Grizzlies were getting some good looks at the basket last night but the shooting was off.
Sunnyside dug itself a big hole in the first half, falling behind 39-15.
The Grizzlies trailed 9-7 in the first quarter when 4A Walla Walla ran off 13 points to close out the quarter while taking a 22-7 lead.
"They (Walla Walla) got some putbacks," Rowe said. "They broke us down pretty effectively on offense. We weren't getting the help we need to have."
It was more of the same in the second quarter as the Blue Devils continued to give Sunnyside problems, outscoring them 17-8 in the period.
"We just didn't finish our shots," Rowe explained. "Against a strong team like Walla Walla we need to make sure we get good looks."
In the second half Sunnyside played much better, thanks in part to its defense.
Rowe said his D just kept getting better as the game wore on. They played what he called 'help' defense in the second half, where teammates would come to each other's aid, working together to double team Walla Walla's players.
Although Sunnyside's defense stepped up, limiting the Blue Devils to 14 points in the third and 15 points in the fourth, the offensive troubles continued. Sunnyside was able to put up only 13 points in each of the last two quarters.
Tristian Abbott led all Sunnyside scorers with eight points. Jordan Esqueda added six points for the Grizzlies and teammates Jonas Linde and Pedro Vargas each put in five points.
"We have a tough non-league schedule," Rowe added. "We're playing against some very good teams. It will only help us to get better."
Rowe said he was pleased with how the defense adjusted in the second half.
Sunnyside (0-3) will continue its non-league schedule this coming weekend with a home game against Wenatchee on Friday night and then will travel to Eisenhower High School on Saturday.
.
Walla Walla 22 17 14 15 --68
Sunnyside 7 8 13 13 --41
FT-Walla Walla 10/13, S'side-8/13
S'side-T. Abbott 8, J. Esqueda 6, J. Linde 5, P. Vargas 5, K. Leija 4, J. Sanchez 4, D. Palomarez 4, J. Bos 3, M. Jongsma 3, C. Graff 2, B. Davila 0.