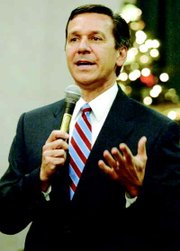 YAKIMA - Washington State Governor hopeful Dino Rossi held a rally in Yakima last night (Wednesday) and encouraged his supporters to help him change the culture in Olympia.
"Are you folks ready to finish what we started," Rossi asked the crowded room at the Clarion Hotel.
Rossi lost the governor's election in 2004 to current Gov. Christine Gregoire by 129 votes.
"Talking about 129 people, doesn't everyone know 129 people," he asked. "Call the people you know. It's time to get the Seattle chip off of our shoulders."
He said some people feel the west side of Washington state controls the elections. Not true claims Rossi. He said he won every district in King County in 2004 except Seattle.
"That's two-thirds of King County," he said.
The difference between Seattle and the east side of the state, Rossi said, is more people vote in Seattle.
He said 84 percent of the people in Seattle voted, compared with 80 percent of the people east of the Cascades. He conceded 4 percent doesn't sound like a lot but said that number represents approximately 23,000 votes.
"That's 23,000 more votes here," he said. "You guys can control every single election."
That's if everyone votes, he added, asking the crowd if they want to win again.
"This election isn't about me, it's not about Gov. Gregoire, it's not about the election," he said. "It's about changing the culture and direction of state government."
He said the current governor has been in state government for nearly four decades. She actually started 38 years ago, or when Rossi was in the fourth grade, he said.
"She's a governor for the government," he added.
Rossi said when Gov. Gregoire took office, she had a record $2.1 billion surplus that she has blown through. He said for the year 2009 there is a projected $900 million deficit.
"And none of that money was spent on tax relief," he said.
He said when I-747, the initiative that kept a 1 percent yearly cap on raising property taxes, was overturned by the Washington courts, Gregoire came out and said she thought 1 percent was too low but 6 percent was too high.
"I came out and said anything over 1 percent is a tax increase," he said. "Within a few hours she came back and said she was for a 1 percent cap. Her first instinct was to protect her friends in government."
During his campaign Rossi plans on pointing out the differences in what the current governor has done and what he wants to do.
He asked if the people have seen a change in Olympia, noting it's the same folks who have been there for years.
Rossi wants to bring people to Olympia that have never been asked to do anything before, people from the private sector, like him.
He said he wants Washington state to be the worst state to commit a crime in, but the best state to do business in.
He said this state has one of the worst records for starting a small business.
"I want them (small business owners) to have a good chance of reaching their goal, they don't have that now," Rossi said.
He encouraged people to keep their eyes open for qualified people who can go to Olympia with Rossi and help him achieve his goals.
"We want a fresh set of eyes," he claimed. "We want our citizens treated as customers, not nuisances."
Rossi railed against Gregoire for allowing 1,300 sexual offenders to register as homeless, saying the state has no idea where these people are.
"We need to know where they are and we need to monitor their internet use," he said. "That's where they prey."
He also said the governor released 1,000 violent felons because there was no room in the state prisons.
"With a $2.1 billion surplus, make room," he countered. "The government's job is to protect the public. We need public safety to be our top priority."
Rossi took credit for helping balance the budget in 2003 when he was the chairman of the ways and means committee during his time in the state senate. He said he was able to do it without raising taxes.
He said if he is elected governor in 2008 he won't raise taxes to balance the budget but he will have to clean up the Democrats' mess again.
"Most people in life don't get a second chance," Rossi told his supporters. "Guess what? We get a second chance."