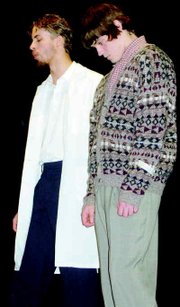 GRANDVIEW - Grandview High School thespians are ready to take center stage, presenting a dramatic play called "Flowers for Algernon."
Drama Director Melanie Manship said that she's actually taught the story as a piece of literature in her classroom.
"I love this story," Manship said. "It's a sad story, but a powerful story."
The story is about a 32-year-old man named Charlie Gordon with a very low IQ who is given the opportunity to have a surgery to make him smarter. The surgery has already successfully been performed on a mouse named Algernon.
Charlie's surgery is a success, too, and soon, he's smarter than even the doctors who performed it. But that's when the doctors realize Algernon's health is failing, fast.
Will Charlie's health fail too?
Tim Taylor has been cast as Charlie and his twin brother, Joe Taylor, is playing Charlie as a teenager.
Other cast members include Haley Lindsley as Alice Kinnian, Tolan Barrett as Dr. Strauss, Israel Ruiz as Professor Nemur, Marvin Stuber as Burt Seldon, Rebecca Orozco as Doris, Rosario Ayala as the nurse, Jacob Robinson as Frank, Nick Valle as both Joe and Mr. Harvey, Mariah Coronado as Gina, Kathya Estrada as Ellen, Noah Ziegler as both Mrs. Donner and Bernice, Amanda McClean as Mrs. Feldman, Mrs. Nemur and Connie, Maria Orozco as Mrs. Martinez, William Snell as little Charlie, Taylor Snell as little Norma, Josie Harrington as both adult Norma and Anne Welberg, Jacob Robinson as father, Mariann Gonzalez as mother and Chelsea Meyer as both Jackie Welberg and chair lady.
Even thought the cast is large, Manship said, "I've been blessed with a great cast."
Working behind the scenes are Jessica Poteet, Rosario Ayala, Anjelica Jiminez, Rebecca Orozco, Brook Snell, Ari Rangel, Juan Avalos, Felipe Cruz, Albert Arreola and Kathya Estrada.
Sabrina Grant is the assistant director.
The GHS thespians will present "Flowers for Algernon" on Thursday, Friday, Saturday, Dec. 13-15, at 7 p.m. at the Arthur H. Smith School in Grandview.
Cost is $5 for adults and $3 for students and senior citizens. Children under six will be admitted free.