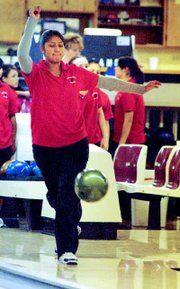 Chalk one up for the home team!
The Sunnyside High School girls bowling team got off the snide yesterday afternoon, blanking the visiting Ellensburg Bulldogs, 4-0. The victory was the Lady Grizzly keglers' first of the year, after starting the 2007 campaign with eight consecutive losses.
Sunnyside got individual efforts of 144 and 140 from sophomores Marisol Canales and Sarasa Partida, respectively, in the Lady Grizzlies' opening 640-553 win.
Sophomore Ileana Martinez rolled a game best 148 in the second contest to lead Sunnyside to a 617-516 victory.
The Lady Grizzlies clinched the match in the first of two Baker games, winning 125-106. Sunnyside made it a clean sweep of the Bulldogs with a 122-111 win in the second Baker game, which calls for each member of the five-girl squads to alternate taking turns throughout the 10 frames.
Canales had the top two-game series for Sunnyside...a 288 on efforts of 144-144. Partida shot a 267 two-game series (140-127) for the Lady Grizzlies, and Martinez rolled a 263 series on performances of 115-148.
Also competing for the Sunnyside varsity were senior Michele Williams (131-107) and junior Marisela Prado (110-91).
Ellensburg's top bowler was sophomore Kelly Bertsch, who had a two-game series of 236 on games of 127-109.