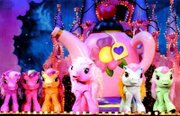 KENNEWICK - Dubbed "the world's biggest tea party," My Little Pony Live will be at Kennewick's Toyota Center for three days.
My Little Pony is known to be a popular favorite among toys for young girls, and VEE Corporation has produced a musical sure to please youngsters throughout the community.
Familiar songs, such as I'm a Little Teapot, are featured in the musical. Several new songs will also be included in the show.
Little girls will enjoy the 90-minute interactive show that encourages audience participation. They will be treated to eight ponies from Ponyville, including Pinkie Pie.
The ponies work together in the show to help plan and host a tea party. Minty makes the invitations, Rainbow Dash makes rainbows, Rarity the Unicorn decorates for the party with streamers and Sweetberry bakes the cakes.
Each pony uses its colorful imagination to contribute their own special touch to the party, teaching children lessons about the meaning of friendship.
The party begins Friday, Dec. 28, at 7 p.m. with an opening night discounted price of $12 per seat, excluding VIP seating. Saturday, Dec. 29, two shows will be featured at 2 and 5:30 p.m. Sunday, Dec. 30, the show can be seen at 2 p.m. Ticket prices are $12, $16 and $20, with VIP seating at the cost of $25 each on Saturday and Sunday.
Toyota Center is located at 7100 West Grandridge Boulevard in Kennewick, and tickets are available by phone through Ticketmaster at 509-735-0500 or online at www.ticketmaster.com.
More information is available by calling 509-737-3722 or on-line at www.mylittlepony.com.