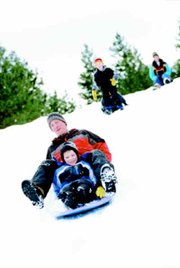 ROSLYN - With 6,000 acres there's plenty of elbow room at Suncadia Resort, nestled in the Cascade mountains near this former coal mining town.
There's also no shortage of winter activities during what the resort calls its second annual WinterFest, now on through the end of December. From sled dog rides to snow golfing, there's plenty to keep all interests busy.
Activities planned during the month-long festival include snowshoeing, snowmobiling, cross-country skiing, winter fly-fishing, inner tube sledding and sn-olf (snow golfing) will all be available each weekend in December.
Also featured are sleigh rides from 10 a.m. to 3 p.m. each Saturday and Sunday this month. Visitors are invited to huddle under blankets for the free, horse-drawn sleigh rides through the picturesque resort.
Rides start at the Prospector Driving Range and wind through the entire resort, with stops along the way so that guests can enjoy the other Suncadia WinterFest activities.
Those other activities also include sled dog rides each Saturday this month from 9 a.m. to noon. The rides are free and last about five to 10 minutes.
Children are also included in the mix of activity as holiday arts and crafts events are planned each Saturday and Sunday from 10 a.m. to 3 p.m. The arts and crafts festivities will be held at the resort's driving range annex. The event is open to all ages and parental assistance is required. Price varies based on activity.
All activities are weather and snow conditions permitting.
For more about Suncadia and its WinterFest events visit www.suncadia.com.
Amenities at Suncadia include two active championship courses and the 18-room Inn at Suncadia, billed as the only hotel in Washington situated directly on a golf course.