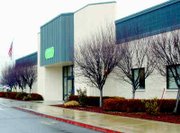 The Washington State Department of Agriculture has moved its office from downtown Grandview to Sunnyside, inside the Department of Social Health Services at the Mid-Valley Mall.
According to Karen Cozzetto, Washington State Department of Agriculture District Manager for fruit and vegetable inspection, the lease was up at the Grandview location on West Second Street. And, she added, "We just wanted to be more centrally located."
Catching someone at the office is tricky, because the work done by agents is out in the field.
Agents inspect fresh fruit and vegetables grown in the valley that are to be shipped. Apples, pears, asparagus, apricots and potatoes require inspections. Cozzetto said the field agent will inspect other fruits and vegetables upon request.
There are no set office hours for the Sunnyside location.