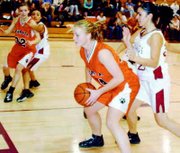 GRANDVIEW - The Grandview High School girls basketball team used a fourth quarter surge to hold off visiting Ephrata 51-40 in the CWAC South league opener this past Friday night.
Grandview had transition opportunities early but couldn't connect from the perimeter in scratching out a 9-4 advantage after one quarter and a 17-13 edge at the half.
Coach Paul Van Pelt said his squad started moving post player Kinzi Poteet out from the paint, which opened up scoring for his squad in the second half.
That was especially true during a 20-13 surge in the fourth quarter in which Grandview put the game away.
"We had good ball movement to find the open shots," said Van Pelt. "We finally started to hit those shots in the fourth quarter."
Poteet led Grandview with 22 points, including 14-of-20 free throw shooting. The junior also collected eight rebounds and blocked three shots for the Lady Greyhounds.
Grandview (1-0, 3-0) returns to action this Friday at league foe Othello.
Van Pelt likes how is team is jelling early on.
"The team aspect and chemistry is coming together," he said. "The girls are starting to understand their roles."
Ephrata 4 9 14 13 - 40
G'view 9 8 14 20 - 51
FG-Ephrata 11/52, G'view 13/44. FT-Ephrata 14/24, G'view 24/36. RBD-Ephrata 41 (Duff 10), G'view 39 (Poteet 8).
Ephrata: B. Duff 14, M. Lotz 8.
Grandview: K. Poteet 22, J. Lopez 12, J. Gonzalez 4, Lupercio 2, George 4, J. Reynolds 4, Sundet 1, V. Medina 2, M. Cruz 0, G. Gomez 0, M. Smasne 0.