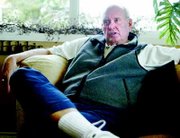 After 45 years of being involved with the WIAA, Bill Gant will say good-bye next July.
Gant has been the WIAA's district 5 director for the last 15 years, and before that, he was involved with the Sunnyside School District for 30.
He is only the third director in the history of district 5.
"There hasn't been a lot of turnover," he admitted.
Gant was in his last year as principal at Sunnyside High School when the opening became available. He was looking for something to do and since he was already on the board for district 5, he decided to apply for the position.
"I've always felt activity programs were important," he added. "I was fortunate enough to be given the position."
The position of director is more like a liaison between the schools and the WIAA. There are 43 high schools in district 5 and about the same number of middle schools.
Gant works with the board of directors to coordinate all state qualifying tournaments in Central Washington.
"If it's a WIAA activity then I'm in charge of making sure the tournaments come off," he explained.
To help, Gant and the board have access to an approximate $500,000 yearly budget. Out of this money all workers for each qualifying tournament are paid. Gant said he reckons he writes between 1,500 and 2,000 checks each year.
Gant will start getting the winter sports tournaments ready in January, with them likely playing out later that month and early February.
Gant said he enjoys what he does but citing that his grandchildren are growing up, he wants to have more time to watch their sporting activities.
"It's been a great job but I want to spend time with my grandkids and watch them play," he explained.
He's seen a lot in his 45 years involved with the WIAA and he admits there are some things he would like to see differently. He said he's noticed a trend now where teams try to get their kids to specialize in a sport more and more.
"There is too much pressure on kids these days," he claimed.
He says athletes are pressured to play their sport year around and Gant would like to see kids play two or three sports a year.
"Activity programs are for kids to get companionship and friendship," he said. "They learn team work and value."
He likes working with the various athletic directors at the schools, calling them the greatest people to work with.
"They thoroughly enjoy watching the kids compete and it's such a valuable experience for the kids," Gant added. "The people I've worked with have been awfully good people."
He would like to see some changes implemented. Gant likes the idea of a required 2.0 grade point average for athletes. He thinks it's important for students having trouble in school to be involved with sports, noting it keeps them in school. But he would like to see the qualifications stringent enough so the students aren't skating by.
He's also noticed a lack of sportsmanship in this state lately with not only the students, but the adults as well.
He advocates rooting in a positive manner for each fan's team but the disrespect needs to be stopped.
"I want the kids to have fun but to do it in a positive way so you don't degrade your opponent," he said.