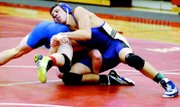 GRANGER - The Mabton High School wrestling team competed in a dual meet last Friday in Granger, tying Onalaska and then beating Ki-Be in two non-league meets.
The next day at the Granger Ironman the Vikings tied for fifth place and saw two of its wrestlers take home championships.
In the Onalaska meet, seven forfeits were handed out and in the 103 lb. and 140 lb. weight classes, neither team had a wrestler to put forth so the two matches didn't happen.
With only five actual matches, Mabton and Onalaska drew to a 36-36 tie.
Picking up wins for Mabton by forfeit were Juan Solis (112 lbs.), Eric Meza (119 lbs.), Andy Rivera (130 lbs.), Arturo Nunez (135 lbs.) and Eli Perez (285 lbs.) Onalaska picked up forfeits in the 145 lb. and 152 lb. weight classes.
In the five matches wrestled, Mabton went 1-4.
The lone win came in the 171 lb. weight class when Mabton's Orlando Flores pinned Malte Storm in 3:28.
"There was a good match going on," Mabton Coach John Kilian said. "Flores was down 7-6 before he got the pin."
In the losses, Mabton's Kody Bacon (189 lbs.) was pinned by Weylin Womack in 1:25, Jesus Cardenas (215 lbs.) was pinned by Tyler Working in 1:48, Carlos Mendez (125 lbs.) was pinned by Marc Navarrette in 3:56 and Angelo Salinas (160 lbs.) was pinned by Quinton Vickaryous in 1:39.
"It came down to the last match," Kilian noted.
The Vikings fared better against the Ki-Be Bears, taking a hard fought 36-32 win. There were six forfeits in this meet and again, there were not any matches in the 103 lb. and 140 lb. weight classes.
Mabton's Nunez started the first match against last season's State champion, Troy Cunningham. Nunez lost by a technical fall 16-0.
In the 160 lb. weight class, Mabton's Salinas lost to Sam Landow 9-7 in a close match.
Salinas started the match with a quick takedown and a 2-0 lead before slowly giving way to Landow.
"It was a good, hard fought match but we ended up losing by two points," Kilian recalled.
Ki-Be's Devin Huddspellett then pinned Mabton's Flores in 52 seconds in the 171 lb. bout.
Solis gave Mabton its first win in the 112 lb. match, beating Delene Rucker by pin in 2:24. Solis was up on Rucker 2-0 before the pin.
Mabton's Mendez was pinned by Andy Campbell in 3:03 and then Rivera pinned Ki-Be's Garrett Parsons in 5:51. Rivera was controlling the match 10-3 at the time.
Picking up wins by forfeit for Mabton were Bacon, Cardenas, Perez and Meza.
"With only five matches in the first meet and six in the second, they were pretty quick," Kilian added. "We have six guys out due to being ineligible, but we might have them back for next Thursday."
Kilian said his team found out they have a lot of work to do.
"We have to get back to the mindset where we wrestle smart," he said.
On Saturday, Mabton competed in the Granger Ironman, where they tied for fifth place with Riverside High School in Boardman, Ore. with 109 points. Granger took first place at its home tournament, winning with 155 points.
Rivera (130 lbs.) took first place honors with a record of 2-0.
He beat Zillah's Luis Rosas by pin in 1:06.
"He handled him pretty easily," Kilian said.
Rivera was up 2-0 on a takedown before the pin.
In the finals, Rivera beat Elliot Carvo of Wahluke High School 7-5.
"Andy was up 4-0 to start the last round," Kilian remembered. "Carvo scored five points on a couple of takedowns. Andy never lost the lead but Carvo made it interesting, that's for sure."
Mabton's Perez stayed unbeaten on the year by going 2-0 at the Ironman and winning the 285 lb. division.
Perez used takedowns against Granger's Josh Gamez to go up 10-3 before pinning Gamez in 2:57 to set up a spot in the final.
He then beat Vinny Thomason of Riverside High School with a pin in 3:00. Thomason was up 4-0 on a takedown and a two-point near fall before Perez could close the gap to 5-2 after the first round.
Perez started at the bottom to begin the second period and scored a quick reversal and then pinned his opponent.
"People are after Eli," Kilian said. "He was second at State last year and he's got to be considered one of the favorites this year."
Mabton's Meza and Salinas both took second place honors at the tournament.
Meza went 1-1 on the day, beating Granger's Carlos DeLeon 12-7 in the first match.
"It was a good, hard fought victory," Kilian said. "DeLeon and Meza will tangle again in our league match and postseason. They are pretty evenly matched. Eric had the upper hand this time. It was a fun match to watch."
Meza then lost to Jake Lewzynski of Cascade High School by a pin in 1:32. Lewzynski is a three time State placer and finished second last season.
Salinas went 2-1 on the day by pinning Shawn Kropi of Cascade High School in 3:07 and then pinning Kyle Kluever of Zillah, in 1:31.
That set up the final with Riverside High School's Brigham Hansen.
Salinas started out ahead and by the end of the second round he was up 8-6 on Hansen. Hansen was then able to get a reversal and put Salinas on his back for a three-point near fall. Salinas tried a move and got caught on his back again.
"He wrestled a good match," Kilian said of Salinas. "I was proud of him. He went for it at the end and tried to win it. You might as well go down swinging."
Nunez gave Mabton its lone third place victory. He went 3-1 on the day and beat Eisenhower High School's Miguel Verduzco by a pin in 2:20 to take third place.
Mabton (1-1) will wrestle in a double dual meet this Thursday, Dec. 13, at Royal. Mabton will take on Royal High School and Connell High School.