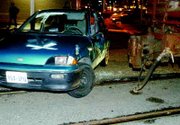 A motorist trying to cross the railroad tracks near Fourth Street and Edison Avenue in Sunnyside last Friday was hit by a train.
A 31-year-old Sunnyside man didn't hear a flagman for the Columbia Basin Railroad as a train was backing up northbound.
Sunnyside Police Officer Kelley Preston said Jorge Mendoza didn't hear the flagman until it was too late.
Neither Mendoza nor anyone on the train was hurt. It was estimated Mendoza had $4,000 worth of damage to his car and the train suffered $1,000 worth of damage.
In other police activity since last Thursday, five thefts were reported.
A gray Chrysler was reported stolen from the 1700 block of Cascade Way at 6:14 a.m. this morning (Monday).
Another stolen car was reported to police at 11:16 p.m. on Sunday. Police were called to Wal-Mart where a 1993 Honda Civic had been stolen.
A person called police to the 300 block of Nicolai Avenue at 6:50 a.m. on Sunday. The reporting party told police a vehicle had been stolen.
A vehicle's license tabs were reported stolen from the 400 block of East Harrison Avenue at 4:59 p.m. on Friday.
Police were called to the 1100 block of South 10th Street at 8:26 p.m. last Thursday. A cell phone was reportedly stolen.
Also since last Thursday, Sunnyside police have dealt with 12 animal complaints, one assault, two citizen disputes, one report of counterfeit money, two reports of domestic violence, three fights, two cases of fraud, 10 reports of graffiti, one case of harassment, one intoxicated person, two juvenile problems, seven reports of loud music, two 9-1-1 hang up calls, two reports of runaway juveniles, four reports of shots fired, 10 reports of suspicious people or situations, two threats, 21 traffic violations, two reports of trespassing, six reports of vandalism and two weapon violations.
Police also served three arrest warrants, assisted four different agencies, assisted eight citizens, provided five extra patrols, two welfare checks and took 10 informational calls.