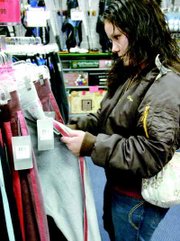 Just in time for the Christmas season, a Big 5 sporting goods store has opened in Sunnyside.
Located at 1719 Morgan Road, just west of the Mid-Valley Mall's main plaza, Big 5 opened its doors last Friday and will hold a grand opening this Wednesday, Dec. 12.
Assistant manager Jake Tomey said the initial reaction to the new store in Sunnyside has been positive, noting it has been busy.
"The biggest response we get is that everyone is happy we're here," he added. "They don't have to drive to Yakima anymore."
The headquarters for Big 5 is in El Sengundo, Calif. and the chain has 363 stores in 11 western states.
The stores offer just about every sporting item available. Although the Sunnyside store doesn't currently sell firearms, it soon will. For now, the store is stocked with several different models of BB guns. Behind the counter are paint ball markers as well.
Many different companies that make fishing and camping gear are represented at Big 5. There is skating gear, tennis and golf gear, snowboards and accessories, exercise equipment and more.
Tomey said Big 5's shoe department is a big draw, and the store has an entire back wall dedicated to shoes. Clothing apparel is also in abundance, with a person's favorite college or pro teams represented.
During the summer months, Tomey said equipment for watersports will be carried. This includes water skis and small boats and rubber rafts.
The store should save Lower Valley residents driving time now Big 5 is in Sunnyside. One shopper yesterday said she was impressed with the large selection of goods. Two other shoppers said most of the goods in the store could only be bought in Yakima or the Tri-Cities prior to Big 5 opening last Friday.