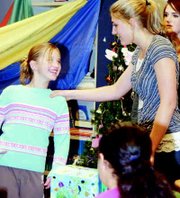 The Sunnyside High School leadership class has adopted all fifth graders in the school district in an effort to open their eyes to alcohol and drug use. Surprisingly, the fifth graders know much more about those evils than the prep students thought they would.
Members of the leadership class have been visiting fifth grade classrooms for approximately three weeks, and say they feel they are learning as much, if not more, than they have been teaching.
"These fifth grade students have surprised us with what they know about drugs and alcohol," noted Claire Schilperoort, and the rest of the group agreed.
Because the fifth graders are the only class without access to the Drug Abuse Resistance Education program or Gang Resistance Education and Training, the leadership class believed it would be helping students learn the downfalls of using drugs and alcohol.
Instead, they have found many of the students have already been affected by drug and alcohol abuse through friends and family. "Many are exposed to it already," said leadership class student Molly Dolan.
Schilperoort said she has been surprised by the stories some of the students share when she is talking about drugs, both illicit and legal.
"We hear about kids going to the park and seeing drug use among gang members," she noted.
Other fifth graders have shared with the leadership class members the effects of family members using drugs.
"It's really sad," commented Janelle Mendoza.
All the prep students said they did not realize the level of exposure elementary students are subjected to, but agreed they were making an impact on the students already.
The program is intended to last throughout the current fifth graders' education, according to Megan Tyler. She said the leadership class believed it would be a greater impact and benefit if the younger students had someone on whom they could rely throughout the years.
"We don't want them to just remember a group came into their classroom, talked to them about the dangers of drugs and alcohol and left," said Tyler.
Continuing the thought, Mendoza explained that the leadership class intends to continue being involved even after they graduate from Sunnyside High School. "When this year's seniors graduate, the juniors will continue working with the kids...at least that is what we hope," she stated.
Melissa Stamschror said she feels the youngsters have been very receptive to the leadership class. "They are excited to see us and we just started," she noted, adding that it is also rewarding to have the support of various community organizations, such as Sunnyside's Promise and the Rotary Clubs.
All-in-all, the leadership class members are hopeful that the program they began after a trip to Washington D.C. last February will continue to grow in strength. "We hope this coming February's D.C. group will be able to gain more support," said Dolan.