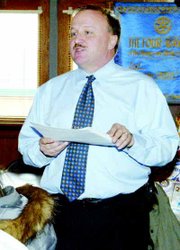 The Sunnyside Noon Rotary Club slipped off their service club hats and exchanged them with those of the Sunnyside School Board in a little exercise arranged by Sunnyside School Superintendent Dr. Rick Cole on Monday.
Cole split the members up into groups of five and gave them information on a proposed $1.4 million maintenance and operations school levy he will soon propose to the real school board.
The Sunnyside School District currently levies $1.34 per $1,000 of property value. That is the second lowest in Yakima County. Mt. Adams School District is the lowest at 76¢ per $1,000.
There is a bond already on the books, which would require property owners to pay $1.38 per each $1,000 assessed to each property. If the new levy is passed, property owners won't have to pay that amount, instead they will pay the $1.34 per $1,000. If the new levy is not passed, property owners will pay the $1.38 per $1,000 amount.
Cole explained that since the property values in Sunnyside are not as high as in other areas of the state, the school district receives equalization funds from the state.
A $1.34 assessment per $1,000 of property value brings in about $200 for each student in the school district, Cole informed the Rotarians. In Seattle, he said, that same amount would bring in roughly $4,000 per student.
Because of this the school district gets equalization money which in turn creates excess funds in the general fund. With this money, the school district can pay off its bond without collecting taxes from the community for it.
The current $1.34 per $1,000 of assessed property will fall to $1.10 per $1,000 by 2012, assuming an annual increase of property values by 3 percent.
Cole then asked each group if they would approve the proposed levy. Almost all groups said yes.
The money gained from the proposed levy will be used to fund safety and security, student activities, enriched academics and curriculum, and technology.
Cole will submit the levy to the school board for approval this month and it is expected to be on the ballot for the Feb. 19, 2008 election.