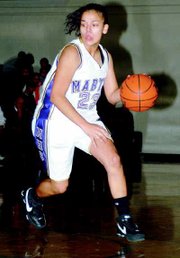 MABTON - The Mabton Lady Vikings made it a perfect 4-for-4 last night, but the non-league win over visiting Royal City wasn't a thing of beauty.
"It was an ugly win," confirmed Mabton Coach Mike Roettger, describing his basketball team's 57-43 come-from-behind victory over the Knights, which was the Lady Vikes' fourth win in four games thus far this season.
"We played about 10 minutes of basketball last night," Roettger complained.
The Mabton girls, despite holding a one-point lead at the half, found themselves down by nine with two and a half minutes to go in the third period. That's about the time Roettger called for his club to employ an "...in your grill" press, the first time this season he's turned up the defensive intensity.
It worked, as the Lady Vikes ended up forcing 15 turnovers, after Royal City only committed two turnovers in the opening half. Mabton went on to outscore the Knights and regain the lead at 39-36 heading into the final quarter of play. In the final stanza, behind Trishi Williams' six points, Mabton socked the game away with an 18-7 run.
Williams and teammate Ana Jimenez ended up sharing game high scoring honors with 14 points apiece. All of Jimenez's points came in the first half, as she was relegated to the bench for much of the second half because of foul trouble.
Theresa Flores and Kayla Campbell combined to chip in 15 points for the winners.
In the losing cause, Dani Callahan popped in a team high 11 points for Royal City.
"We have a tendency to play to the level of our opponents," Roettger said in describing last night's action.
He wasn't happy that his club committed 35 turnovers last night, a season high, especially since the Knights didn't press his team. Roettger said his girls got lazy with their passes in trying to break Royal City's wide open 2-3 zone.
Roettger, too, wasn't all that thrilled in the Lady Vikes' 13-for-37 effort from the free throw line. In practice, he said, his girls are hitting their free throw shots at about a 70 percent clip.
"I truly believe free throws are a mental thing," he said. "I know it's only you standing there at the foul line, but we have to step up and get the job done during the game."
Mabton will open league play this coming Friday night at White Swan. The Lady Vikings will then be out of action until the following Friday, when they continue league play at Zillah.
Royal City 9 14 13 7 -43
Mabton 9 15 15 18 -57
FG-Royal City 15/48, Mabton 20/54. 3-PT-Royal City 2/5 (D. Callahan 2), Mabton 1/4 (Jimenez). FT-Royal City 7/11, Mabton 13/37. RBD-Royal City 36, Mabton 36 (T. Williams 11). TO-Royal City 17, Mabton 35.
Royal City: Werlinger 7, Jansen 7, Woodworth 2, Callahan 11, Mireles 0, Leal 1, Gonzales 6, Brown 9.
Mabton: Reynolds 4, Enriquez 2, Campbell 6, Flores 9, Tellez 3, Jimenez 14, Gutierrez 5, Williams 14, Martinez 0.