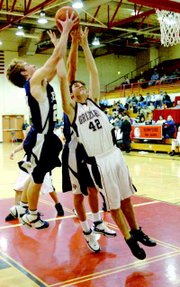 Playing against a taller team is always tough but the Sunnyside High School boys basketball team kept it close against the timber-like Selah Vikings last night.
Playing against a starting lineup that included two players 6'4" and one 6'3", Sunnyside saw its hard fought lead vanish when Selah's Trevor Dallman nailed a 38-foot shot as time expired, to beat Sunnyside 51-50.
The loss keeps the Grizzlies winless at 0-6 as they continue to play through a tough non-league schedule.
Sunnyside used its full-court defense, switching from man to zone, to keep the pressure on the Vikings in the first quarter.
"Our full-court press forced a lot of turnovers," Sunnyside Coach Ron Rowe said. "We were able to get some points off of those."
Tied at 7-7 after one quarter, Selah was finally able to break Sunnyside's press a few times and hit a couple of perimeter shots to take a 25-21 lead at halftime.
Rowe said those few times when the Vikings broke the press was the difference in the second quarter.
Dallman, who finished with a team-high 13 points for Selah, got five of those points in the first half.
Selah was able to outscore Sunnyside by 10 points to start the third quarter, giving the Vikings a 14 point lead, but Sunnyside fought back behind Adam Ramos' six-point third period outburst. Six Grizzlies scored in the period to cut the Vikings' lead to five points.
A defensive change in the fourth worked well for the Grizzlies, and they went ahead by one point late in the fourth quarter. After changing leads a few times, Gibby Briones put Sunnyside up 50-48 with just seconds to go.
As time expired, Dallman hit a 38-foot bank shot to spoil Sunnyside's first opportunity at a win this season.
Briones led Sunnyside with 10 points and Ramos had eight points for the Grizzlies.
Dallman led the Vikings with his 13 points and three players, Kyle Washut, Nick Colmenero and Brett Dodeward, each had seven points.
"The kids played hard and didn't give up," Rowe said. "We had some chances to come away with a W. It just didn't happen on that one."
Sunnyside will travel to Richland this Friday, Dec. 14, for a 7:30 p.m. game and then host the Pasco Bulldogs on Saturday, Dec. 15, at 7:30 p.m.
Selah 7 18 14 12 -51
Sunnyside 7 14 13 16 --50
FG- Selah 19/45, Sunnyside 20/51. 3-PT. FG-Selah 4, Sunnyside 5. FT-Selah 9/13, Sunnyside 5/8. RBD-Selah 35, Sunnyside 27. TO-Selah 27, Sunnyside 15.
Selah-D. Washut 6, K. Washut 7, N. Colmenero 7, T. Dallman 13, B. Dodeward 7, N. Navarrete 0, A. Keagle 5, M. Valencourt 6.
Sunnyside-G. Briones 10, J. Montelongo 5, D. Palomarez 2, M. Jongsma 2, A. Ramos 8, J. Bos 6, J. Linde 0, J. Sanchez 6, K. Leija 2, N. Cornelius 9, T. Abbott 0, P. Vargas 0.