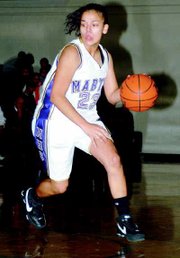 For three quarters during last night's basketball game with the Selah Vikings the Sunnyside High School girls basketball team played great basketball. Unfortunately, a basketball game is four quarters long.
Selah outscored the Grizzlies 24-6 in the third quarter of play last night, which proved to be the difference as Sunnyside fell to Selah 66-47.
"We didn't take care of the ball so well in that quarter," Sunnyside Coach Eric Berg recalled. "We came out a little flat."
Selah's Sasha Valdez scored 10 of her game-high 31 points in the quarter, with most of them coming on easy lay-ups after stealing the ball.
Sunnyside played well from the start, but a few turnovers in the first quarter allowed the Lady Vikes to take a 16-10 lead after the first period.
"We started taking care of the ball in the second quarter," Berg said.
Sunnyside was able to reduce its turnovers in the second stanza and fought to cut Selah's lead to one point, 16-15, at halftime.
"We were able to hit some in the second quarter we missed in the first quarter," Berg explained. "We switched up our defense in the second so Selah wouldn't get comfortable with what we were running."
Poised to take the lead, the Selah defense pressured Sunnyside into making some bad decisions in the third and the lead the Vikings forged in that quarter proved too much for Sunnyside to overcome.
Still, the Lady Grizzlies stuck with it, outscoring Selah 16-15 in the last period.
"We never gave up," Berg stated. "That's going to be the story of our season. These girls refuse to give up."
Yvette Garza was the only Grizzly in double figures. She scored 15 points on the night, going 3-for-3 from the free throw line. Samantha Wright and Alexis Ramos each had six points for Sunnyside.
Berg said his team will keep working on improving, especially handling the ball under pressure.
"These girls work hard and it's going to pay off," he said. "We need to take our hard work and focus it into four quarters."
Sunnyside (0-5) will have two home games this weekend. The Grizzlies will host the Richland Bombers this Friday,
Dec. 14, at 7:30 p.m., and then welcome the Pasco Bulldogs into town Saturday, Dec. 15, for a 5:45 p.m. game.
;Selah 16 11 24 15 -66
Sunnyside 10 15 6 16 --47
FT-Selah 7/8, Sunnyside 12/23. RBD-Selah 31, Sunnyside 33.
Selah-S. Valdez 31, K. Jonas 6, R. Burke 8, E. Smith 0, K. Wilson 4, C. Heide 4, A. Wilson 2, E. Harris 11.
Sunnyside-S. Wright 6, A. Ramos 6, K. Wutzke 0, S. Zamarron 3, M. Tyler 3, V. Ramos 5, Kelsey Rollinger 5, Z. Perales 0, Kayla Rollinger 4, Y. Garza 15.