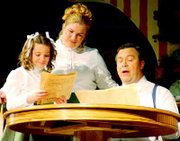 PROSSER - "People need hope today," says Frank Church, a character in the play "Yes Virginia, There is a Santa Claus," which opened this past weekend at the Princess Theater.
Church, played by Tim Whiteman, is a reporter for the New York Sun in 1897 who usually opines on city politics. He takes up the cause of eight-year-old Virginia O'Hanlon (played spot on by Makenna Hoffard), who has been told by her friends there is no Santa Claus.
Based on a real-life incident in which Hanlon inquired about Santa, "Yes Virginia, There is a Santa Claus" performed by the Valley Theater Company captures the hope and humor of the play and the actual letter that inspired it. The "Yes, Virginia" editorial, the play tells us was not only inspired by a little girl, but came about after the urging of Frank's secretary, Mrs. Marbury (Patricia Hauver).
The play is well-served by performers such as Chief (Rudy Slupsky), the editor who serves as narrator for the story. Jim and Amy Milne seamlessly carry off genuinely heartfelt performances as Virginia's mother and father.
Even the childhood spats between Virginia and her pals, Missy (Janessa Hoffard) and Charly (Justine Boone), are well done.
The set design, including a backdrop of the Brooklyn Bridge, also captures the flavor of turn-of-the-century New York.
The dialogue reflects the era's realities-coal as the source of heat and Dr. O'Hanlon moans a patient's reliance on home brewed remedies-as well as hopes for the future-Mrs. O'Hanlon vows women will get the right to vote.
The play is intended for all ages, but children will especially enjoy the performances and the real-to-life acting of the young girls in the performance.
"Yes Virginia" will be performed again this coming Friday and Saturday at 8 p.m., and a matinee is scheduled for 2 p.m. this Saturday.