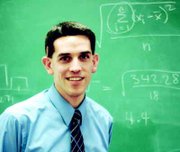 Imagine the pressure of having your day-to-day work videotaped, then explaining that work to a national board.
No, it's not 1984, but part of Sunnyside High math teacher James Wise's successful effort at receiving national certification.
Wise has taught at the school for eight years and also serves as a math coach to help other educators in presenting math.
National certification, he says, isn't intended to replace state certification, but requires veteran teachers with at least three years experience in the classroom to meet a higher standard. "It's for teachers who want to improve on their skills," he said.
The national program is not mandatory and requires anywhere from 200 to 400 hours over the course of a year in developing a portfolio of teaching standards.
Wise figures he spent most of last year's Christmas break at school preparing his portfolio. Elements include the ability to demonstrate-this is where the video comes in-in an actual classroom the ability to lead students in a large group activity, while at the same time start a small group activity for a portion of the class.
"I looked at the requirements for the national certification (in math) and they were the best teaching standards I've ever seen," he says.
The work is hard-Wise and special education teacher Paula Greene are the only teachers among current Sunnyside High faculty to have earned it-but the rewards are great.
Wise, for example, turned in his portfolio in March of this year and just a few days ago found out he received the national honor. As a result, he will receive a $5,000 annual stipend from the state-doubled to $10,000 because he teaches in what is considered a low-income district-for the next 10 years.
He says the state raised the stipend amount for educators in low income districts in an effort to encourage more high quality teachers to work in those districts.
That's a total of $100,000 combined over the next 10 years, if you're doing the math at home. Since the national certification is good for 10 years, it means Wise will be able to forgo the re-certification required every five years for state standards.
Wise smiles and admits the money played a part in his decision to pursue national certification, but he says there are rewards that extend beyond money. Rewards, he says, that are changing his classroom approach to teaching math.
Take problem solving, for example.
Wise says high school students have problems in their lives outside of the classroom and have trouble solving them. In a recent math problem solving exercise, Wise had the students break down the steps used in solving math problems and applied them to a real life situation outside of the classroom.
"I'm considering all aspects of the classroom atmosphere," he says.
The idea, he notes, is for students not to just do homework and learn each day's lesson. Rather, the focus he's gained from the national certification process has given him a desire to see students apply what they learn to life, to use it outside the classroom.
Wise says there are quite a few teachers at the high school who are now working through the portfolio process he went through a year ago in hopes of earning national certification.
He hopes they, too, will make the national grade and enjoy the confidence that comes with it even as they, too, go through the process of being videotaped and showing their work to a national audience.
"It showed me that I was able to prove to other educators that I do an OK job," Wise smiled in a big understatement. "That feels good."