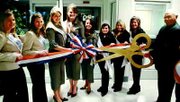 Construction on the remodeling and expansion of the emergency department at Sunnyside Community Hospital finished Tuesday of this week and an open house was held last night to celebrate the completion.
The new facilities opened for business today (Thursday) at 8 a.m.
Members of the Sunnyside Community Hospital Foundation, donors and the curious were on hand to tour the new facilities, enjoy great food and mingle Wednesday evening.
The idea to remodel the emergency department at the hospital and separate immediate and trauma care was borne from a community forum held in 2000.
Community funding helped get the project underway in July of 2006 and the result is a newly remodeled and expanded emergency department that is state of the art.
"You won't find anything like this in a hospital this size for many miles," Jon Mercer, president of the Sunnyside Community Hospital Foundation, said. "It's very unique."
The ER now has two trauma care suites, one dedicated emergency cardiac suite, two ER exam rooms, two dedicated OB/GYN suites, six immediate care examining rooms and a negative pressure room and decontamination shower.
What this means for patients is more privacy. Gone are the days when patient care areas were separated by curtains.
Sunnyside Community Hospital Public Relations spokesman Tom Lathen said now the examining rooms resemble more of a doctor's office than an exam room.
The old ER wing was remodeled and that is where the more acute cases will be seen. The new wing will be where the traumatic cases will be treated.
An RN with the hospital, Cheryl Bofman, said the new facilities will make it easier to move patients quicker and allow them more privacy.
With the expansion and remodeling the hospital installed new and upgraded equipment, as well.