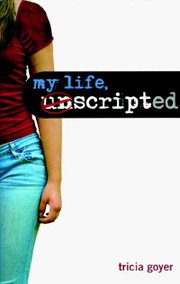 Teens seeking direction in their lives can "script" the path they choose through a new book.
This past August, publisher Thomas Nelson released My Life Unscripted by Tricia Goyer.
In this book, Goyer gives examples of how she and other teens whom she interviewed dealt with circumstances within their lives.
She has written many of the examples in the form of a script and followed each script with a realistic approach as to the reasoning behind the script.
Goyer, then, offers up exercises and activities the reader can participate in to help guide them to making positive choices.
She deals with issues, such as defining oneself, popularity, finding a support system and many others in this 20-chapter book.
Not only did I find the book insightful for teens, but I felt even adults could benefit from the activities. How many adults really feel secure about themselves and have overcome all the obstacles in life?
In addition, Goyer reveals the inner struggles and outward relationship needs of people, in general.
She challenges the reader to think about their life experiences. At the same time, she exposes her very real teen years and the fact that she had not always lived her life as she could have.
Goyer lets the reader know she made several mistakes growing up, but she has found a greater purpose and has since become stronger because of her experiences.
She encourages the reader to think about situations before they arise, directs them to make the choices that will best affect the "big screen" of life.
Goyer even includes situations, such as fist fights and sneaking out of her parents' home in some of the scripted scenarios. She stated that she included these scenarios to help others understand the heartache of unwise decisions.
All-in-all I truly believe My Life Unscripted would be a great gift for anyone, though it was written with teen girls in mind. I strongly encourage others to pick this book up at Barnes and Noble or Amazon.com.