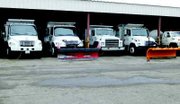 With the Lower Valley experiencing early snowfall for the first time in a few years and experts calling for a wet winter, the cities of Sunnyside and Grandview have prepared themselves to keep the roads safe.
Sunnyside has in its arsenal three snowplows, two sanding trucks and two de-icing trucks. One snowplow is set up with a sander and one of the de-icing trucks has a small plow attached to it for small parking lot jobs.
Sunnyside Public Works Director Jim Bridges said the city has 150 yards of a salt/sand mixture to help melt ice on roadways. Bridges said the mixture is one part salt to 15 parts sand.
Also on stock is 3,500 gallons of liquid de-icer. Bridges said he has capacity to store up to 9,000 gallons.
On a typical day of de-icing, Sunnyside Public Works employees will lay down 700 gallons of de-icer.
"The life of the de-icer is between two and five days, depending on the moisture," Bridges said.
If the city gets a lot of rain the de-icer won't last a day.
Bridges said his department watches the weather on a daily basis to help prepare for any operations his department might need to do. If there is a 20 percent or higher chance of moisture, the de-icing trucks are on the move.
How much manpower it takes to keep Sunnyside's roads clear depends on how much snowfall there is. If there is a lot, Bridges said he will have five employees working on the roads.
After last Sunday's brief snowfall which dusted Sunnyside with about two inches, Bridges said he had one de-icing truck and one sanding truck running.
During heavy snowfall, Bridges said his crews will clear all the main thorough fares first. These include Sixth Street, 16th Street, Lincoln and Edison Avenues and Yakima Valley Highway. Crews then do the hill and the side streets.
Grandview Public Works Director Cus Arteaga also said his department is ready for the snow season.
He has 1,000 gallons of de-icer in stock, and if he needs more, he will purchase it from the Department of Transportation in Prosser. He explained it is cheaper for him to go through DOT instead of a distributor.
"It costs us about $2 a gallon through a distributor but I can pick up de-icer from DOT for about 34¢ a gallon," Arteaga said.
Instead of a salt/sand mixture like the city of Sunnyside uses, Arteaga said Grandview uses chipped red rock to lay down on icy roads. There are 200 yards of the red rock in stock now.
The city of Grandview uses one road grader, three backhoes, a front-end loader, and one small and one large sanding truck to help clear Grandview's roads. There are also two de-icing machines at the city's disposal.
Arteaga said his department gets ready for the winter season in October. His workers watch training tapes on safely removing snow and all the city's equipment are serviced.
"At this time we're ready to go," Arteaga said. "We switch one guy to a Wednesday through Sunday schedule. This allows eight hours of work on Saturday and Sunday without any overtime, just straight pay."
&nbsp