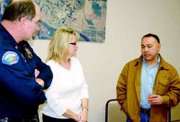 GRANDVIEW - The city of Grandview took time yesterday to honor two councilmen whose terms of office will conclude at the end of this month.
Bill Flory, 79, is retiring from council after 16 years in office, while Javier Rodriguez, 45, was defeated in the November general election. Rodriguez served two-and-a-half years on the city council, appointed to a vacant seat, then winning election to finish out the term which concludes this month.
Admiring both men for serving in the public eye with the criticism it can bring with it, Mayor Norm Childress praised Flory's "quiet wisdom" and Rodriguez's "heart for the city."
Childress noted a private ceremony was held for a third council member whose tenure ended this year, Helen Darr. Childress said a private get together was held at her request.
Flory said he decided to make this his last year in city government because of "other things that need additional attention."
He added, "I thought it was time for some new blood, some different people maybe with different views and get a broader spectrum."
A former radiation technician at Hanford, Flory said he first ran for office at the encouragement of other council members. "The more I thought about it, I realized it was one more way I could be of service, and pay back the community."
Among the highlights Flory noted of his time in office were upgrades to the wastewater treatment plant, building a new fire station, upgrading the city's water system, the development of the Wal-Mart Distribution Center and the arrival of the YVCC campus.
He says the toughest part of the job was overcoming conflicting opinions.
"I really enjoyed working with the council," Flory said. "We had to agree to disagree with personal differences, but not lose sight of the objective." A recent example is councils' general unity on the 2008 budget process, even as Flory disagreed with pay raises for the council and mayor.
Flory said he also enjoyed representing the city government in the city's annual Soapbox Derby contest with Sunnyside, noting Grandview has won the traveling trophy six of the last eight years.
Rodriguez said he enjoyed serving on council. "I'm going to miss it," he says. Employed with Snoqualmie Winery and Coldwell Banker, Rodriguez said he had always wanted to run for council but never had the courage.
He says he found that courage from others in the Grandview community who suggested he seek office.
During his two-plus years in office, Grandview has seen the development of the empty Safeway storefront into a college building.
Rodriguez says he's most pleased with action council took earlier this year in toughening up city codes, especially targeting gang-related criminal activity. He said it's been a challenge to find an answer for gang-related crimes and noted that tightening up existing codes is making a difference.
Rodriguez said the most challenging aspect of being a council member is the city's likely move to increase utility taxes by about $3.80 per month for residences.
"It's good for the city, but it's bad for senior citizens on fixed incomes," Rodriguez observed.
Though they leave office this year, Flory and Rodriguez likely won't be strangers around the council chambers.
Rodriguez hopes to possibly serve on the port commission or planning commission if openings develop. He also confirmed he will run again for council when the next seats are up for election in two years.
Flory says he plans to attend council meetings from time to time.
"I'll miss it mainly because of the people," he says.
Speaking of people, Flory adds the city will be in good hands with its new council next year. "Good people have been elected and the changes that make Grandview a great place to live will continue."