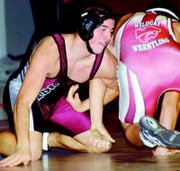 GRANDVIEW - What was beginning to appear to be a winning night against the Toppenish Wildcats last night ended in a disappointing loss for Grandview High School's wrestling team.
The 35-27 loss for the Greyhounds was a disappointment, with four varsity grapplers still ineligible to compete.
Grandview won five of its first seven matches, three of which were by decision, one was by a technical fall and another was a result of Dalton Walker (145 lbs.) pinning Toppenish's Carlos Ramirez in 3:05.
The technical fall was at the hands of Fernando Godinez (152 lbs.), who defeated Wildcat Nick Walle. Scoring for the bout was 18-2.
Grandview Coach Jeff Sevigny said he felt Godinez's performance adds strength to the middle of the Greyhounds' line-up.
Winning decisions for the Greyhounds were Greg Gonzalez (171 lbs.), who earned the 23-11 victory; Grandview's Adam Morales (215 lbs.) dualed Ramon Rodriguez, earning a 12-10 decision; and a 6-0 victory was earned by the performance of Grandview's Santo Guillen against Armando Hernandez in the 103-lb. match-up.
From there, Grandview's Omar Verduzco suffered a pin at the hands of Isiaah Garza of Toppenish in the 112-lb. division, Wildcat Julian Romero (125 lbs.) pinned Grandview's Spencer Blanshan, Garret Walker lost a 10-7 decision for the 'Hounds and Storm Shea (135 lbs.) also lost to decision. Rounding out the meet was Grandview's Eddie Galindo (140 lbs.), who was defeated by pin by Wildcat Ryan Reballosa.
Grandview's league record is now 0-2, however Sevigny stated he feels the team will become stronger as the ineligible grapplers return to the mats.
They face East Valley next Tuesday at East Valley High School for the third league dual of the season.