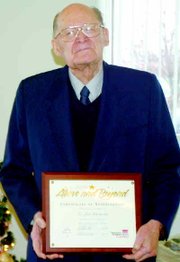 Sunnyside's Dr. Jack Hale, an eye physician, was recognized this past Wednesday by the Mid-Valley Providers Consortium for his efforts in helping give the gift of sight to Artz-Fox Elementary School student Ivan Torres.
Torres suffered from birth with an extraordinary case of crossed eyes. The boy's left eye was turned in as far as his nose and his right eye was also turned in severely.
Because of the condition, Torres experienced taunting from his classmates and experienced learning difficulties.
"His teachers would place him at the far front of the room, and he still couldn't read the board," said Hale.
Artz-Fox Elementary School Nurse Cindy Howe contacted Hale in an effort to discover whether or not Torres could be helped.
Hale said his office manager, Betty Schwarzwalter, recognized the plight of Torres and cleared Hale's schedule to allow him time to contact colleagues throughout the state.
He contacted a world-renowned children's ophthalmologist in Seattle, who was, according to Hale, "a little reluctant."
He said he "...pleaded with Dr. Lenhart to see the boy because I have sent a lot of children to see him."
As a result, Lenhart agreed to treat Torres pro-bono and the young boy's eyes have since been corrected.
"It's made a great impact on his life," said Hale.
He noted that the Mabton Lions Club also assisted with the youngster's cause. In addition, it also received recognition by the Mid-Valley Providers Consortium.
"It is always an honor to be recognized for helping patients. I was pleasantly surprised to learn of this award," Hale concluded.