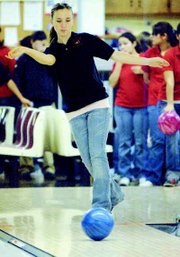 Sunnyside sophomore Sarasa Partida notched the top two-game series on the day, a 323, but it went for naught as the West Valley Rams rolled their way past the Lady Grizzly bowling team, 3-1.
The host Lady Grizzlies opened Thursday's prep bowling match by clipping the visiting Rams, 638-607. Partida had a game high 156 in the opener. She was backed up by teammates Marisol Canales, Michele Williams, Ileana Martinez and Marisela Prado with respective efforts of 128, 124, 118 and 112. West Valley's top individual performance in game one came from junior Becky Pearson, who shot a 145.
West Valley evened the match with a tightly contested 697-672 victory in the second contest. The Rams got a game best 181 from junior Amber Pearson, as well as a 173 from junior Sami Sutton. In the losing cause, Prado and Partida rolled games of 172 and 167, respectively. Filling out the Sunnyside scorecard in game two were Martinez and Williams with identical 121's, and a 91 by Canales.
The Rams clinched the match with a pair of 178-173 and 144-137 wins in the final two Baker games. Baker bowling calls for each member of the five-girl squads to alternate taking turns throughout the 10 frames.
The narrow margins of victory claimed by West Valley in three of the four games yesterday were in stark contrast to the 4-0 shellacking the Rams administered to the Sunnyside High bowling team in the two clubs' earlier meeting back in mid-November.
In JV action yesterday, Sunnyside claimed its first win of the season, winning by total pinfall after splitting the four games. The Lady Grizzly junior varsity won the two head-to-head match-ups, 514-506 and 507-436. Leading the Sunnyside junior varsity charge was Abi Bravo (140-119). West Valley rebounded to win the two Baker games, 98-89 and 102-85.
The SHS bowling team is scheduled to take on Wenatchee at Eastmont Lanes next Tuesday, Dec. 18.