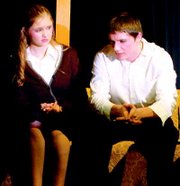 GRANDVIEW - Learning acceptance of ourselves and others is in a nutshell the message of "Flowers for Algernon," performed last weekend by Grandview High School students.
The advancement of mid-20th century science comes at a high price for Charlie Gordon (Tim Taylor), the play's central character.
Mentally disabled and with an IQ of 68, Gordon at 32 years of age still talks and acts like a child.
That all changes when Algernon the lab mouse undergoes brain surgery and becomes a genius. If it worked for Algernon it could work for Charlie, so went the thinking of scientists Dr. Strauss (Tolan Barrett) and Professor Nemur (Israel Ruiz).
The surgery makes a genius out of Charlie but, as with Algernon, the rapid progress leads to rapid decline.
Knowing Algernon's end (and his) is fast approaching, Charlie makes sure the mouse gets a proper burial instead of being stored in a freezer. It's a bid to restore dignity, both for the mouse and Charlie, himself, who feels as if he's treated like a lab rat sometimes.
The play's serious tone is portrayed nicely by Grandview High students under the direction of Melanie Manship.
It's a heavy tone, this drama of death and loneliness, but the students bring it off with kindly lessons for all of us: Be careful to not lose your smile and kindness as you gain wisdom. The more intelligent you become, the more problems you'll have.
Taylor turns in a yeoman performance as Charlie and is featured in nearly every scene. Taylor's twin, Joe, also appears as a younger, more innocent Charlie.
Haley Lindsley expresses genuine sentiment for Charlie as teacher and friend Alice Kinnian.
Sober lessons and drama call for comic relief, and "Flowers for Algernon" delivers in the form of scenes at the bakery where Charlie works. Jacob Robinson in particular brought much-needed laughs for the crowd by channeling a young John Travolta as Frank, the ne'er do well bakery employee-picture Vinnie Barbarino of "Welcome Back Kotter" in a baker's hat and apron.
Robinson has the tough task, though, of going from laugh-maker to playing Charlie's stern father in scenes that show the young Charlie in torment. Robinson pulls off the transition without a hitch.
Near the end of "Flowers for Algernon," Charlie tells the audience that the maze he and the mouse had to work through in lab tests is a metaphor for life. We all live in a maze, so to speak, with a different conclusion at the end for all of us.
The message from Algernon and Charlie, though, is enjoy that maze, that journey, and appreciate others just as they are.