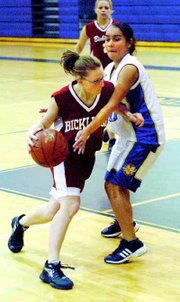 MABTON - Sticking to a full court pressure defense, the Bickleton varsity girls basketball team defeated the Mabton JV team this past Saturday, 47-26.
Bickleton Coach Tom Whitmore said the defense created turnovers in favor of the Lady Pirates, in turn garnering the team an advantage at the net.
The Lady Pirates outshot the Lady Vikings 18-4 in the first quarter and held them to three points in the third quarter of the game.
He said the three standouts in terms of stealing the ball were Katelynn Clinton, Star Kibby and Phylicia Pearson, who garnered a combined 23 steals in the game.
"This really changes the flow of the game in our favor because we get more opportunities to score," Whitmore commented.
Though not all of the Bickleton team was able to get on the stats sheet, Whitmore said the win was really a team effort.
"We have a great advantage with being able to rotate our players in and out of the game without changing our momentum," he noted.
Clinton again contributed a game high in rebounds with a total of 14 boards. She tossed in 17 at the net, with seven steals to her credit. Three of her 17 points were at the free throw line.
Kibby scored eight points, two of which came from the free throw line. She had five steals, an assist and one board.
Leading the team in steals was Pearson, who took the ball from the Mabton girls 11 times. She added seven boards and six assists to her performance.
"This group of girls works hard on their defense," said Whitmore, adding that they continue working to improve the offensive plays.
The Lady Pirates (3-1) return to the hardwood at home tonight (Monday) against the Riverview JV. Whitmore said Bickleton is looking forward to the game because "...everyone is really coming on."
Bickleton 18 6 8 15 -47
Mabton JV 4 11 3 8 -26
FT-Bickleton 7/27, Mabton JV 6/15. Rbds.-Bickleton (K. Clinton 14, P. Pearson 7, H. Goodnight 6, T. McBride 5, J. Jarvis 4, N. Kibby 3, A. Molina 3, S. Kibby 1).
Bickleton: K. Clinton 17, S. Kibby 8, H. Goodnight 7, P. Pearson 5, J. Jensen 4, A. Molina 2, J. Jarvis 2, T. McBride 2.
Mabton JV: A. Chavez 10, E. Amescua 6, S. Vasquez 4, E. Alcala 2, C. Reyes 2, D. Peralez 2.