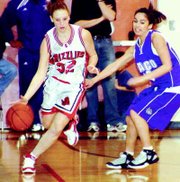 The offense of the Sunnyside High School girls basketball team continued to struggle last weekend, as the Lady Grizzlies lost to Richland 52-30 on Friday and 66-26 to Pasco on Saturday.
Playing at home on Friday, Sunnyside saw the Bombers streak out to a 23-6 lead in the first quarter.
"They came out fast," Sunnyside Coach Eric Berg said. "We were a little flat. They pressed us and we actually did a better job of breaking the press but we couldn't score any points."
In the second quarter the Lady Grizzlies found their stride on defense, holding Richland to just four points. Sunnyside got a couple of easy lay-ins when they forced Richland into some turnovers. The Bombers were forced to foul and the Grizzlies hit all four of their free throws.
"Our defense was working well," Berg said. "We were able to change things up."
Despite the big second quarter, Sunnyside still trailed 27-16 at halftime.
In the third quarter Sunnyside played Richland close but still were outscored 12-9 in the quarter.
"We dug ourselves too big of a hole in the first quarter," Berg added.
Trailing by 14 points to start the fourth quarter, Sunnyside made a run at it, forcing Richland to commit some fouls.
"We missed a few front ends on some 1-and-1's," Berg recalled. "If we make those free throws, we have another opportunity."
Sunnyside didn't and another loss was recorded in the books.
Kayla Rollinger led Sunnyside with eight points in the game. Ramey Chambers led the Bombers with 11.
On Saturday the Lady Grizzlies hosted Pasco, where they were literally beat up, 66-26.
Sunnyside could only combine for eight points in the second and third quarters after putting up 11 points in the first quarter.
"They're quick," Berg said of Pasco "They have an all-around team. There is a lot of balanced scoring."
Berg claimed the first quarter was probably the best the Lady Grizzlies have played all year.
"We were breaking their press but unfortunately we couldn't carry it on for the next three quarters," Berg recalled.
After trailing 15-11 to start the second period, Sunnyside started to turn the ball over, while Pasco stayed consistent.
Sunnyside was 4-of-16 from the free throw line in the game.
"Our free throws were not good," Berg said. "We get a team in foul trouble but can't convert the free throw."
Sunnyside was outscored 14-4 in the second and 19-4 in the third quarter to put the game out of reach.
A bright spot for the Grizzlies was Kayla Rollinger. She finished with nine points on the night and grabbed 11 rebounds. Berg noted she played well on the defensive boards.
Berg also singled out Yvette Garza, who despite getting into foul trouble early, still finished with eight points on the night, second only to Rollinger.
"We have to continue to get better," Berg said. "We need to come out and approach the league season as a whole new season. Hopefully, we can be successful."
Richland 23 4 12 13 -52
Sunnyside 6 10 9 5 --30
RBD-Richland 34, Sunnyside 17. TO-Sunnyside 28.
Richland-MacDonald 7, Chambers 11, Arthers 7, Roberts 0, Sax 3, Ojeda 7, Judy 2, McGown 9, Lee 4, Mahoney 0, Marichel 2.
Sunnyside-S. Wright 4, A. Ramos 0, K. Wutzke 5, S. Zammaron 6, M. Tyler 2, V. Ramos 1, Kelsey Rollinger 0, Kayla Rollinger 8, Y. Garza 4.
Sunnyside 11 4 4 7 -26
Pasco 15 14 19 18 -66
RBD-Sunnyside 33, Pasco 23. TO-Sunnyside 30.
Sunnyside-S. Wright 0, A. Ramos 2, K. Wutzke 0, S. Zammaron 4, M. Tyler 1, V. Ramos 0, Kelsey Rollinger 2, Kayla Rollinger 9, Y. Garza 8.
Pasco-B. Ortiz 8, Arellano 6, Lanning 0, Sullivan 9, Zavelleta 7, Ellsworth 0, Y. Ortiz 9, Ramsey 3, Middleton 8, J. Ortiz 3, Hodgins 11, Walter 2.