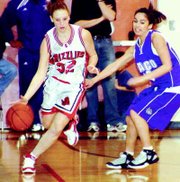 MABTON - Off to one of its best starts ever, the Bickleton High School varsity boys basketball team remained unbeaten on the season by claiming a 52-48 decision against Mabton's JV this past Saturday afternoon.
The win improved the Pirates' record to 4-0. Bickleton is scheduled to continue its non-league schedule with a home game tonight (Monday) against the Riverview JV.
In knocking off the class 1A Mabton junior varsity last Saturday, the class 1B Pirates got double-digit scoring from Cody Loomis and Eric Hess. Together, the duo poured in 41 of Bickleton's 52 points.
The Pirates opened a 26-18 halftime lead against Mabton, but the JV Vikings fought back in the third quarter to forge a 38-34 advantage. The comeback rally was due in part to Loomis being relegated to the bench.
"Cody had four fouls, we had to sit him," said Bickleton Coach Rick Palmer.
"Cody is a good ball handler, plus he's one of our best scorers. With him out of the game in the third quarter, Mabton gave us some trouble," Palmer said.
Loomis re-entered the game in the fourth quarter and popped in 11 of his game high 25 points, leading the Pirates to an 18-10 scoring burst in the final stanza.
One of the keys to the victory was the Pirates' prowess on the boards. Hess snagged a game high 28 rebounds to go along with his 16 points. Edgar Molina added a 10-rebound effort for Bickleton, with Loomis snagging six boards.
Palmer said Saturday's win came against a good Mabton JV team. "They (Mabton) played a good game," he said.
The offensive leader for Mabton was Tony Mendez, who canned a team high 17 points.
Bickleton 10 16 8 18 -52
Mabton JV 12 6 20 10 -48
Bickleton: E. Hess 16, C. Loomis 25, C. Osborne 1, A. Venema 3, E. Molina 7, P. Maeder 0.
Mabton JV: T. Mendez 17, J. Strickland 10, O. Osoa 10, D. Velasquez 2, D. Nash 1, G. Garcia 2, S. Vasquez 6.