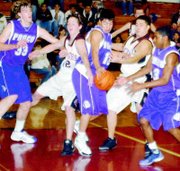 The Sunnyside High School boys basketball team finished its grueling non-league schedule of 4A teams this past weekend, with a 65-42 loss to the Richland Bombers and a 62-54 loss to Pasco.
Sunnyside (0-8) will start the Columbia Basin League regular season this Tuesday, Dec. 18, at home against Southridge High School at 7:30 p.m.
Last Friday night in Richland, the Grizzlies played the Bombers to an 8-8 tie to start the first quarter. It was then that Richland went on an 8-0 run to lead 16-8 after one quarter. Richland's Ryan McKinney had seven points in the first quarter and Sunnyside had trouble containing him.
The Bombers continued to work the ball against Sunnyside in the second quarter.
"They hit a couple of perimeter shots and worked the ball inside," Sunnyside Coach Ron Rowe said. "They (Richland) were getting a lot of second and third chances in that quarter."
The Grizzlies went into the locker room trailing 29-15.
"I told them defensively we would have to play better," Rowe recalled. "We needed to block them outside, prevent them from getting second and third chances at their shots."
Rowe said his team did respond better in the second half. Sunnyside was able to force some turnovers and did a better job of rebounding and limited the Bombers. Richland still got the better of Sunnyside, outscoring the Grizzlies 20-13 in the third period behind Jake Halorth's seven points.
Sunnyside was able to stay close in the fourth quarter, forcing some turnovers and generating some points from that. The hole was just too big to climb out of, though.
Nathan Cornelius led Sunnyside with 12 points. Halorth led the Bombers with 13.
Hosting the Pasco Bulldogs on Saturday, Sunnyside was hoping to get in a victory before starting league play this Tuesday. The Grizzlies played a heck of a game during the last three quarters, but dug such a big hole in the first quarter they were unable to climb out of it.
Pasco was able to hit 5-of-9 3-point shots in the first quarter on their way to building a 22-8 lead.
"We were a little slow getting the coverage on them," Rowe admitted.
Robert Montano scored 10 of his 15 points for the Bulldogs in that quarter. Despite the big numbers Pasco put up in the first period, Sunnyside was able to keep Gavin Gilmore, Pasco's 6'8" player, in check by putting him in foul trouble early.
Gilmore would go on to score 16 points in the game, with nine of those points coming in the third quarter, but the Grizzlies kept him from dominating the game.
After the dreadful first quarter, Sunnyside was able to force some turnovers and did a good job of containing Pasco's three-point shooters. After staying with the Bulldogs in the second quarter, Sunnyside made its move in the second half.
The Grizzlies started the third period down by 16 points and by the end of the quarter, picked up one point on the Bulldogs.
In the fourth, Sunnyside climbed to within 10 points early, and then trailed 54-50 late in the quarter. Sunnyside could get no closer than that, however, as the two teams traded points after that. Pasco ended the game by scoring four three throws.
"Overall our defense was very good throughout the ball game," Rowe added. "Our press was pretty effective. We forced Pasco into quite a few turnovers."
Sunnyside 8 7 13 14 --42
Richland 16 13 20 16 --65
FT-Sunnyside 2/6, Richland 7/10. FG-Sunnyside 18/54, Richland 28/60. 3-PT shots made-Sunnyside 4, Richland 2.
Sunnyside-B. Davila 0, G. Briones 0, J. Montelongo 4, M. Jongsma 5, A. Ramos 8, J. Bos 4, J. Linde 0, J. Sanchez 3, K. Leija 2, N. Cornelius 12, T. Abbott 4, P. Vargas 0.
Richland-C. Casillas 2, R. McKinney 13, J. Rowe 4, M. Bixler 5, T. Sanford 2, J. Halorth 13, C. Smith 0, C. Chunn 3, T. Hay 0, J. Miller 9, B. Vedder 2, C. Douglas 8, J. Biddle 4.
Pasco 22 17 13 10 --62
Sunnyside 8 15 14 17 --54
FT-Pasco 8/15, Sunnyside 10/12. FG-Pasco 23/65, Sunnyside 21/62. 3-PT shots made-Pasco 7, Sunnyside 3.
Pasco-A Scales 2, J. Perez 0, A. Griffin 8, R. Montano 15, A. Andrade 3, C. Andrew 8, G. Villafar 6, K. Anderson 0, J. Price 0, G. Gilmore 16, T. Colbray 4.
Sunnyside-G. Briones 10, J. Montelongo 19, M. Jongsma 0, A. Ramos 6, J. Bos 10, J. Sanchez 3, K. Leija 0, N. Cornelius 0, T. Abbott 6, P. Vargas 0.