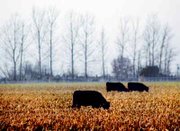 Donald Harold Bickett, 81, of Grandview died Sunday, Dec. 16, 2007, at Grandview Healthcare Center.
He was born March 14, 1926 to Bernard and Augusta (Eckhouse) Bickett in Maryville, Mo.
He is survived by one son, Donald K. Bickett and wife, Yolanda, of Sunnyside; five grandchildren; and numerous great-grandchildren. He was preceded in death by his parents.
Graveside inurnment services will be held Thursday, Dec. 20, 2007, at 2:30 p.m. at Lower Valley Memorial Gardens in Sunnyside.
Smith Funeral Home is in charge of arrangements.
More like this story