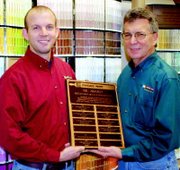 Standard Paint earns top honor
by John Fannin
The Standard Paint Abbey Carpet store in Sunnyside snapped a 12-year drought recently, earning the chain's Senior Award for Outstanding Branch Performance.
The award, presented in Yakima on Saturday, Dec. 8, is given each year to the store that posts the best sales performance each year.
There are a total of five stores in the Standard Paint Abbey Carpet network, and Sunnyside store manager Dave Shrewsberry says it's been at least 12 years since the location here was tabbed for the honor.
Shrewsberry said local store sales are up 15 to 20 percent over last year, resulting in the traveling plaque now residing in Sunnyside.
Shrewsberry attributes the sales uptick to working with local contractors, such as Cerda, which is building homes in Grandview, DeVos Construction and Bestebreuer Brothers in Sunnyside.
Keith Kessler is a sales representative for the Sunnyside store, and he said the local growth is due in part to increased flooring sales at the Sunnyside store. "More people are aware that we offer flooring," he said.
Besides residential and commercial customers, Shrewsberry noted sales to industrial users have perked up as well, noting examples such as Independent Foods and Columbia River Steel.
With a high bar set in 2007, Shrewsberry said it will be a challenge for the Sunnyside store to defend the chain's award next year.
It's a challenge he welcomes.
"It's an honor that we want to keep," Shewsberry says, expressing appreciation for the Sunnyside community and its support of the paint and flooring store. "We don't want to wait another 12 years."