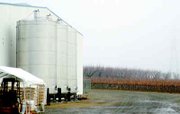 Columbia Winery is going where the grapes are, moving all of its winemaking and bottling operations from Woodinville to a spot about 10 miles north of Sunnyside.
Columbia isn't a stranger to the Sunnyside area, according to Mia Malm, a spokesperson for California-based Icon Estates, the winery's parent company.
Malm says Columbia's white wines are already produced at a facility on Holmason Road near Sunnyside. Covey Run, part of the same ownership conglomerate as Columbia, also has wines produced at the site.
It's a location that, appropriately, is surrounded by vineyards and a short drive to the growers that provide Columbia's grapes.
The move announced recently now means that all of Columbia's reds will be based here, as well.
Lorenzo Robledo is a cellar supervisor at the Holmason Road plant, and he says the move just makes good sense.
"It's not good for the grapes to have to travel three hours from here to Woodinville," he said. "This will improve the quality of the grapes."
Robledo, a Mabton resident, said he understands some of Columbia's winemaking may also be done in Prosser.
Either way, it's still a lot closer than Seattle for Columbia employees, who routinely have to travel back and forth between here and the westside, between the crop in Sunnyside and the winemaking process in Woodinville.
Malm said the decision was also impacted by a lease on the Woodinville location Columbia has called home for 20 of its 45 years.
"Our current lease expires April 30, 2008, so the transition will be sometime before that," she said. Malm also confirmed that the cost of renting the Woodinville site was factored into the decision.
That's not to say Columbia is leaving Woodinville lock, stock and wine barrel.
Malm said the winery is looking for a retail location and "hospitality site" in Woodinville.
"We're not abandoning Woodinville," she pledged.
Columbia has 54 employees and Malm said it's too soon to say how many will be employed at the new Woodinville storefront and how many will move over to Sunnyside.
Columbia will not have a retail outlet in Sunnyside, according to Malm.
The focus here in Sunnyside is producing the wines.
After all, this is where the grapes are.
As Malm observed, "For the first time in 45 years we'll have all our winemaking close to the source."