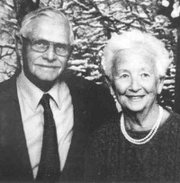 Keith and Dona Dorsey of Outlook will celebrate their 60th wedding anniversary next Thursday, Dec. 27.
The couple was married Dec. 27, 1947 at Sunnyside First Christian Church and has lived in the Sunnyside area throughout their lives.
They raised three children, Jill Hilmes of Yakima, Gaynelle Dorsey of Yakima and Jeff Dorsey of Grandview. They now have nine grandchildren and six great-grandchildren.
Dona is a retired school secretary and Keith farms grapes.
A family dinner hosted by their children is planned for the couple. They will follow the celebration with a trip to Maui, Hawaii in April 2008.