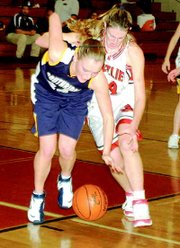 A poor third quarter ultimately proved to be the undoing for the Sunnyside High School girls basketball team as the Lady Grizzlies fell to the Southridge Suns 45-35 last night.
Sunnyside pulled out to a 10-8 lead in the first quarter but a Southridge player hit a 3-point shot from halfcourt at the buzzer to give the Suns an 11-10 lead after the first period.
"We were getting some good shots," Sunnyside Coach Eric Berg said. "We were able to convert the shots we should have made."
But, the last second shot Southridge made in the first quarter proved to be a dagger in the Grizzlies' hearts as Sunnyside's offense struggled in the second and third quarters.
"We missed everything," Berg said of his team's second period performance. "Both the second and third quarters we didn't shoot very well."
Sunnyside was only down 20-15 at halftime but Southridge outscored the Grizzlies 14-6 in the third period, which gave the Suns a lead the Lady Grizzlies couldn't overcome.
"That third quarter hurt us," Berg added. "Southridge had a lot of offensive rebounds. They had too many second opportunities."
Sunnyside was able to put pressure on the Suns in the fourth period, which resulted in some shots being made and free throws being converted. The Lady Grizzlies outscored Southridge 14-11 in the quarter but came up short in the end.
"We didn't hit our shots early in the game," Berg conceded.
Heather Worley led the Suns with 19 points. She was followed by Erica Coulter with 12.
Alexis Ramos led the Grizzlies with 12 points.
Berg said he was happy with his team's effort in forcing turnovers. He noted Sunnyside forced 10 of them last night, a season high for the Grizzlies.
"We will continue to tighten the screws," Berg promised. "We need to take care of the ball and work on offensive rebounds."
Berg said his team will also work on converting free throws during the mini Christmas break.
"We have to execute our offense," he added. "We need to get good shots and convert them."
Sunnyside (0-1, 0-8) will travel to Davis Friday, Dec. 28, for a 7:30 p.m. game.
Southridge 11 9 14 11 --45
Sunnyside 10 5 6 14 --35
3-PT shots made-Southridge 1, Sunnyside 2. FT-Southridge 12/20, Sunnyside 7/19. RBD-Southridge 37, Sunnyside 31. TO-Sunnyside 17.
Southridge-J. Lyons 9, H. Worley 19, M. Sorensen 0, J. Wallace 0, E. Coulter 12, Upton 0, M. Hall 5, Gramling 0.
Sunnyside-S. Wright 0, A. Ramos 12, K. Wutzke 0, S. Zamarron 4, M. Tyler 0, V. Ramos 0, Kelsey Rollinger 0, Z. Perales 0, Kayla Rollinger 9, Y. Garza 10.