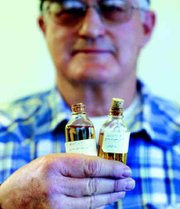 At a recent Washington Mint Growers Association convention held in Pasco, Sunnyside's Arnold Martin was named 2007 Washington State Mint Growers Friend of the Industry.
The award is given annually to a person who demonstrates support of and dedication to the mint industry.
"Besides being a good producer, Arnold Martin is a true friend of the mint industry," said Shane Johnson, Assistant Executive Director of the Washington Mint Growers Association.
Said Johnson, "He has been active in mint organizations all of his adult life, including the Mint Commission, the Mint Growers Association and the Far West Spearmint Marketing Order."
Johnson said that when the marketing order was first proposed in the late 1970s, Martin worked tirelessly on the proponent committee to sell the idea to fellow growers. "He traveled to all the Northwestern states and attended numerous meetings, always bringing calm and reasoned presentation of the facts," Johnson said.
He added that when the order was voted in in 1980, Martin served as a member of the first committee and has been either a member or an alternate every year since.
"Although he always defers the position to anyone else in the area who wants to serve, his friends and neighbors always send him back...a real tribute to the high esteem they hold Arnold in."
Martin said of the honor, "It was a pleasant surprise for me to get that, a real nice thing to receive."