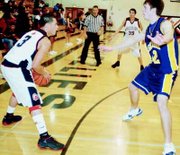 Poor shooting from the floor by the Sunnyside High School boys basketball team and Southridge High School's Cody Fullerton kept Sunnyside winless for the season.
Fullerton scored 23 points to lead the visiting Suns to a 54-30 win over the Grizzlies last night.
Southridge jumped to a 12-6 lead after the first period, thanks mostly to the 6'4" Fullerton's seven points in the quarter.
"We had some good looks but the ball just didn't fall in the hole for us," Sunnyside Coach Ron Rowe said. "That kind of happened through the whole game for us."
The Grizzlies only hit 14 percent of their field goal attempts (8-of-57).
In the second quarter, Southridge distanced itself further from Sunnyside, outscoring the Grizzlies 21-6 in the period. Rowe said his team let Fullerton get away from them. The Southridge player's 14 points in the quarter came from both inside and the perimeter, but Rowe said Fullerton really hurt Sunnyside with his offensive rebounds and putbacks.
Down 33-12 at halftime, Rowe told his team to continue to take good shots and put pressure on Southridge defensively.
The Grizzlies were able to do that but still the ball wouldn't fall.
"We couldn't overcome that first half lead," Rowe added.
One bright spot for the Grizzlies came at the free throw line. They sank 13-of-17 free throws during the game.
"That's a good thing that happened," Rowe recalled. "We've been picking up on our free throw shooting."
Fullerton led the Suns with 23 points in the game, including grabbing 14 rebounds. Justin Bos was the Grizzlies' top scorer, pouring in nine points in the game.
"Everything goes better if you have the ball going into the basket," Rowe said. "Our press created some offensive opportunities for us but poor shooting kept us out of the ball game."
Sunnyside (0-1, 0-9) will now have 17 days off from competition during the Christmas break. The Grizzlies will next host Eastmont Saturday, Jan. 5, at 7:30 p.m.
Southridge 12 21 14 7 --54
Sunnyside 6 6 12 6 --30
FG-Southridge 21/50, Sunnyside 8/57. 3-PT FG-Southridge 1/9 (Ross), Sunnyside 1/15 (Cornelius). FT-Southridge 9/13, Sunnyside 13/17. RBD-Southridge 37, Sunnyside 15.
Southridge-S. Robertson 2, N. Johnson 0, C. Grady 0, K. Anderson 2, D. Jones 2, A. Mendenhall 17, A. Ross 5, C. Fullerton 23, C. Homme 3, T. Stock 0.
Sunnyside-B. Davila 0, G. Briones 4, J. Montelongo 6, M. Jongsma 0, A. Ramos 2, J. Bos 9, J. Linde 0, J. Sanchez 0, K. Leija 0, N. Cornelius 3, T. Abbott 4, P. Vargas 2.