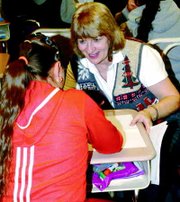 OUTLOOK - As parents and students finished the last remains of their dinner Tuesday night, Outlook Elementary School Principal Robert Bowman rose up to speak.
He told those gathered in Outlook's cafeteria they would be doing two things that night.
"We're going to learn some math and have some fun," he said.
And that's just what Peggy LaPierre, a fourth grade teacher at Outlook Elementary School, had in mind when she first proposed the idea of a "Partners in Learning" program to Nuestra Casa's Sister Mary Rita Rohde.
LaPierre and the other fourth grade teachers at Outlook Elementary School are hosting a once-a-month evening event where parents and their fourth grade students can go to the school, have dinner and then have the students teach their parents what they are doing with math and reading.
Tuesday night's program was the second time the parents and students got together with their teachers.
The idea came about, according to LaPierre, when she and other Outlook teachers were at a math in-service workshop learning the new math curriculum for the 2007-08 school year.
"We were having so much fun working with this hands-on math I thought wouldn't it be nice if the students were able to teach their parents what they were learning," LaPierre recalled. "Then we could be partners in learning the work together."
The seed for the "Partners in Learning" program was sowed.
When LaPierre asked Sister Rohde at Nuestra Casa for help in providing translators for the program, Rohde went one step further. She took it upon herself to gain funds for the program.
Rohde wrote a grant proposal to the Discuren Charitable Foundation and received $30,000. Discuren is Olde English for the word discover.
"The program allows parents to have dinner with their children and then the students show their parents what they are doing in math," Rohde said. "The goal is to help parents get more involved with their children's homework at home."
The grant pays for the translators and LaPierre and Rohde were able to purchase new reading booklets for the fourth grade students.
Tuesday night the parents took the booklets home and will participate in exercises with their children.
"Fourth graders should be able to read 118 words a minute with 100 percent accuracy," LaPierre stated.
Rohde said she got excited about the program because one thing Nuestra Casa is concerned with is the need for parents to be involved in their children's learning process.
"The average grade level of (adult) immigrants is the third grade," she said. "By the time their children get to the fourth grade they have passed them. If they can be involved they are learning while their children are learning."
LaPierre said she thought bringing in the parents would keep that close connection that exists between children and their parents and this would increase the chances of success.
"I've found that the students and I are closer because of the parent's involvement," LaPierre added.
An estimated 200 people showed up at Outlook Elementary School Tuesday night and of the 100 fourth graders enrolled at Outlook, half were there.
According to Rohde, one parent stated it was fantastic to know what their children were learning.
A fourth grade teacher said in her 27 years of teaching, she had never had such a large group of parents in her classroom for a school function before.
Nuestra Casa also passed out $5 gift cards to each family that attended Tuesday night's program.